Home
>>
Technology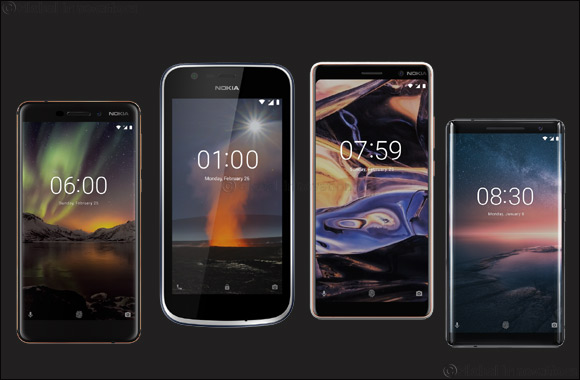 Stay connected with your loved ones this Ramadan season with the Nokia smartphones
Dubai, UAE, May 20, 2018: Nokia 8 Sirocco - your life deserves an extraordinary phone
Nokia 8 Sirocco's premium level and elegant design is inspired by Nokia's rich design heritage. Holding the phone in your hand feels just right and it is also aesthetically appealing thanks to the curved glass finish which envelops a precision-crafted stainless-steel frame to deliver a fusion of strength and beauty, for a durable and reliable phone. Make use of its 12MP wide angle primary camera and the 13 MP secondary camera with 2x optical zoom to capture every moment.
Photography fans can use the Pro Camera mode to make detailed, yet simple adjustments. The Nokia 8 Sirocco joins the Android One family, offering a high quality software experience designed by Google.
The Nokia 8 Sirocco is available now in the UAE for a price of AED 2,399.
Nokia 7 Plus - flagship design and performance without the flagship price tag
The Nokia 7 Plus offers unprecedented design, innovative imaging and powerful performance for up to two days with one charge. You can shoot beautiful pictures and videos that will please the eye with ZEISS optics dual camera, allowing you to capture all your favourite moments even in low light settings and extra bright conditions. The content creation process is nonstop with the reliable Nokia 7 Plus, as it has a powerful battery that can last for up to 2 days. And since it comes with Android Oreo™ out of the box, you'll be able to enjoy the latest features, including Picture-in-Picture for multitasking.
The Nokia 7 Plus is available now in the UAE for a price of AED 1,399.
New Nokia 6 - Built to Last
The new Nokia 6 edition builds upon the success of its predecessor. Everything from the body of the phone to the screen has a compact design that is built to last and it feels great in your hand. The performance of the phone will please fans as it is powered by Android Oreo™, so it is 60% faster than its award winning predecessor, as well as also pure, secure and up-to-date. It has a great camera thanks to ZEISS optics and you can also rely on its USB-C fast charging to charge quickly and get back to the action.
The New Nokia 6 is available now in the UAE for a price of AED 899.
Nokia 1 – the most affordable smartphone yet
The Nokia 1 is a breakthrough in terms of providing access to technology, as it delivers the smartphone essentials that modern consumers need at a price accessible for everyone. It has a beautiful design that people come to expect from Nokia and a smooth and reliable performance. It is powered by the Android Oreo™ (Go edition) and it features the iconic Xpress-on changeable covers.
The Nokia 1 is available now in the UAE for a price of AED 299.
Home
>>
Technology Section