Home
>>
Entertainment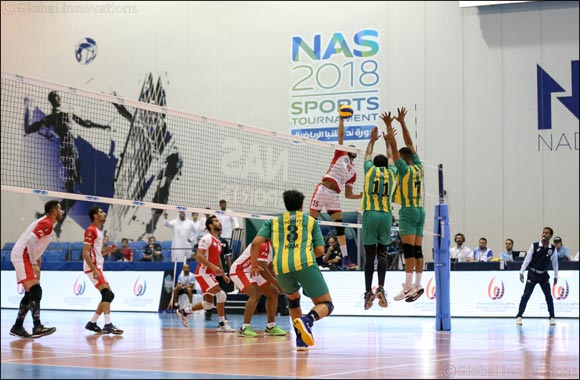 Defending champs Surprise down Raptor to reach semis
Dubai, UAE, May 21, 2018: F3 will square off against defending champions Surprise for a place in the final of Nad Al Sheba Sports Tournament's Volleyball championship after edging Spinneys 3-2 in the battle for the top spot in Group B.
Spinneys will take on Group A toppers F3 'A' in the other semis.
Both F3 and Spinneys had already qualified for the last four after defeating Leader Sport in their opening matches, but the top spot in Group B was at stake as they faced-off in the early hours of Monday.
Winning the group meant avoiding F3 'A' in the semis and F3 looked especially keen to do that as they came bolting out of the blocks to win the first set. Spinneys, however, refused to back down and the tie was eventually decided in the fifth, where F3 stamped their class for a 25-23, 20-25, 25-20, 23-25, 14-4 win.
Earlier in the night, defending champions Surprise – a team owned by UAE and Shabab Al Ahli football star Khamis Esmail – defeated Raptor 3-0 to book their spot in the semis.
With F3 'A' already through to the knockout stages, Surprise and Raptor were battling for the second semi-final spot from Group A, and though their winner-takes-all clash was decided in three sets, it was a close contest with Surprise prevailing 28-26, 27-25, 25-23.
"We have yet to play like the team that won the title in 2017," said Esmail. "We have reached the semis, but I don't think we are happy with our performance.
Clearly, our performance has been unsatisfactory. We have still not gelled as a team and if we want to keep our journey in the tournament going, we need to show a big improvement."
Echoing his owner, Surprise player Mohammed Shamal added: "We have not really found our rhythm until now. This is the reason we have suffered in both our matches.
"Hopefully, we can pick our game up in the semis. We just need to put these two matches behind us and look ahead. We did not play at the level we can, but thankfully we are through to the semis and that is a positive we can work with.
"Hopefully, we can rally round our outstanding foreign professionals and put up a lot better show in the semis. We have two of the world's best players in the team and they have done really well. We just need to make sure we give them the required support."
FENCING
Tunisian Azza Besbes, a five-time African champion and winner of a silver medal in women's sabre at the 2017 World Fencing Championship, will duel with Dutchwoman Marleen Buitenhuis for the Women's Sabre Senior Individual gold at NAS Fencing after defeating compatriot Amira Ben Chaabane 15-12 in the semis.
In the other semis, Buitenhuis faced few troubles in overcoming Sudan's Shoug Hamad 15-6.
"When I received an invitation to participate in the Nad Al Sheba Sports Tournament, I did not hesitate for a moment and came specifically from France to get involved and contribute to the success of this event, and to enjoy the atmosphere here during the Holy Month of Ramadan," said Besbes.
"Of course, I have not come here just to participate or enjoy the atmosphere, but I am here to put up a strong performance and use this tournament to prepare myself for the World Championships, that will be held in China in July.
"I want to be ready for the World Championships and I want to compete for new world titles and add to my achievements."
Home
>>
Entertainment Section