Home
>>
Government, Legal & Humanity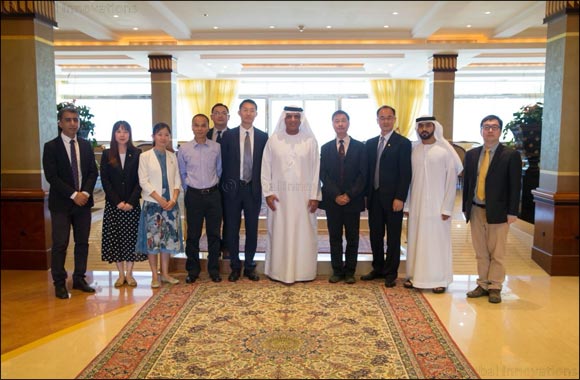 H.H Sheikh Saud Meets Palace Museum Beijing Officials in Ras Al Khaimah to Unearth Details of Ancient 'Silk Road' Trade Links Between the Far East and Eastern Arabia
World's leading expert is in RAK to examine Chinese blue and white pottery found here
'Ras Al Khaimah is a place that has had constant human habitation for over 7,000 years'
May 21, 2018, Ras Al Khaimah, United Arab Emirates: His Highness Sheikh Saud bin Saqr Al Qasimi, UAE Supreme Council Member and Ruler of Ras Al Khaimah, has met renowned archaeologists from China who are in the Emirate to uncover details about the ancient 'Silk Road' trade links between the Far East and this region.
Ras Al Khaimah's Department of Antiquities and Museums has developed a collaboration with the Palace Museum, Beijing, and Durham University, in the UK, to conduct a scientific study in the Emirate to learn more about the Chinese pottery discovered here in recent years. Currently, a team of Palace Museum and Durham University experts under Prof Li Ji, Director of the Archaeology Institute, Palace Museum, and Professor Wang Guangyao, Deputy Director of the Archaeology Institute, Palace Museum, are visiting the National Museum of Ras Al Khaimah to study the various pieces of pottery with a view to conducting an excavation in the future.
Prof Guangyao is the leading expert in the world on blue and white pottery from China.
His Highness Sheikh Saud said:
"Ras Al Khaimah prides itself on its rich history and culture. Working with the prestigious Palace Museum and Durham University will unearth further discoveries and improve our understanding of the past.
"Only by knowing one's past can we look forward with confidence, backed by the power of knowledge."
Ahmed Al Teneiji, General Manager of the Department of Antiquities and Museums, said:
"Ras Al Khaimah is one of few places in the UAE where there's been constant human habitation for more than 7,000 years.
"Julfar, as it was previously known, was a major hub on the old trading route from east to west, so it is no surprise that a lot of Chinese pottery has been discovered here.
"We have some of the richest and most varied archaeology in the UAE and numerous heritage sites are currently being investigated.
"This collaboration with Palace Museum and Durham University will allow us to better understand the ancient trade links between this region and China and help to develop a long-term partnership for learning and sharing information."
In addition to Prof Ji and Prof Guangyao, the delegation from China includes Prof Lv Chenglong, Head of Collection Department, Palace Museum and four other Palace archaeologists. Mr Wang Zhenshan, Vice Consul General of the Chinese Consulate in Dubai, was also present at the meeting.
The Chinese pottery found in Eastern Arabia points to very extensive trade, which is known to have started between the 3rd century B.C. and the 3rd century A.D. Until now, little research has been done on the trade links between China and this region and the pottery's journey to get here. Extensive excavation sites in Ras Al Khaimah such as Kush (3rd century A.D.), Al Mataf and Al Nudud (13th to 16th century A.D.) have uncovered many interesting finds but they will be revisited to specifically better understand the trade activities and socio-economic impact of 11 centuries of trade between China and what is now Ras Al Khaimah. The ancient trade routes between China and the rest of Asia are currently being reestablished through China's Belt and Road Initiative.
Home
>>
Government, Legal & Humanity Section