Home
>>
Real Estate & Retail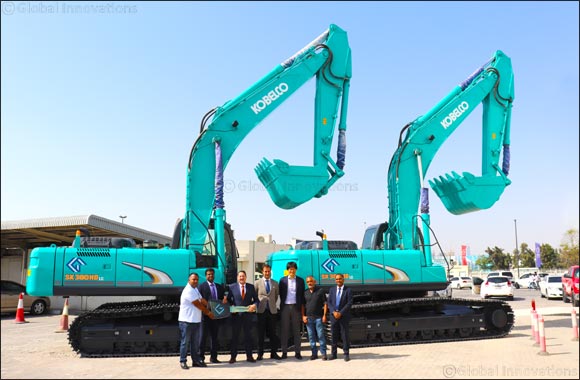 Saeed Mohammed Al Ghandi and Sons (SMAG) Finalizes Deal With Utmost Gulf General Transport for the Sale of Kobelco Excavators
Dubai, UAE, May 22, 2018: Saeed Mohamed Al Ghandi and Sons (SMAG), part of the Al Ghandi Auto Group and sole distributor of Japanese construction machinery giant Kobelco in the UAE, announced the signing of an agreement with Utmost Gulf General Transport, for the sale of Kobelco hydraulic excavators.
In addition to greater digging capacity, the new Kobelco hydraulic excavators are fuel-efficient and economical, imposing less burden on the local environment. The advanced technologies of the new SK380HDLC model balances all the demands of today's construction industry.
Commenting on the agreement, Mark Jenkins, CEO, Al Ghandi Group, said: "Our agreement with Utmost Gulf General Transport is a testament of our excavators' leading edge in the construction industry's heavy equipment sector. The Kobelco brand, which is sold exclusively by SMAG, manufactures world class construction equipment, and we look forward to providing the market with our wide range of excavators that are topped with our award winning after sale service."
The lean and efficient Kobalco sleek excavators bring a whole new style to the worksite while setting new standards for environmental responsibility.
"Our agreement with SMAG is set to take our excavation operations to the next level, as we modernize our equipment with the best Japanese technology in its class," said Roshan Rohra, managing director of Operation, Utmost Gulf General Transport. "The Kobelco excavators possess greater performance capacity, improved cost efficiency, and features that are environmentally friendly. These features will significantly enhance the performance and growth of operations, ensuring 18 per cent savings in fuel consumption."
According to Jenkins, the construction industry continues to evolve in the UAE, "and we are delighted to contribute to this growth by providing our partners with the best heavy equipment the industry has to offer".
Home
>>
Real Estate & Retail Section