Home
>>
Government, Legal & Humanity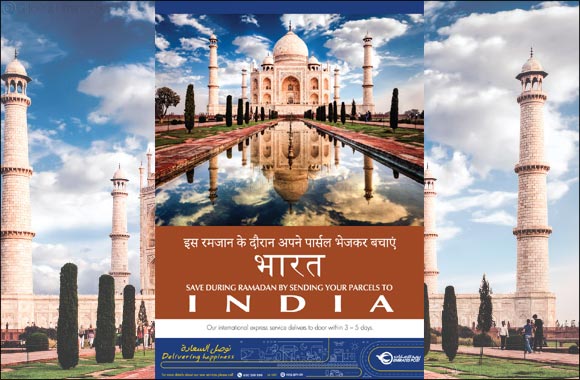 Emirates Post Offers Valued Discounts to Six Destinations this Ramadan
Discounts to India, Egypt, China, Pakistan, the Philippines and Bangladesh
Up to 60% on 15-30kg packages sent via international Express
Dubai, UAE; 23 May 2018: In line with the Year of Zayed, Emirates Post, UAE's leading postal and express provider, has launched a heartfelt initiative offering discounts on international Express shipments for six destinations. Following the principles of the UAE's founding father, His Highness, the late Sheikh Zayed bin Sultan Al Nahyan, on community philanthropy, Emirates Post has announced a valuable offering of varied discounts for shipments weighing 15-30kg to six destinations, this Ramadan. This initiative aims at giving customers a chance to share the gratitude and happiness of the Holy Month with their families back home.
Commenting on this initiative, Obaid Mohammad Al Qatami, Acting Chief Commercial Officer at Emirates Post Group, said, "The teachings of doing good for the community that the late Sheikh Zayed, (may his soul rest in peace), instilled in us has been the driving force behind this initiative. The campaign will help individuals in delivering happiness to their loved ones back home".
"We looked at the trends of shipments sent during the Holy Month and noticed that these selected destinations are the most popular for shipments of such consignments (15-30kg). Given that these countries also make up a large number of the current expat community within the UAE, we decided to launch discounts targeting these six countries; making it the most cost-effective option in the market. Emirates Post aims to run similar campaigns throughout the year targeting different destinations," he continued.
The first six countries to be part of this initiative are India, Egypt, China, Pakistan, the Philippines, and Bangladesh. Throughout Ramadan, each destination has a specific tailor-made discount for packages weighing 15-30kg starting from 17% up to 60%. Emirates Post's international Express service delivers to door within 3-5 days.
Home
>>
Government, Legal & Humanity Section