Home
>>
Entertainment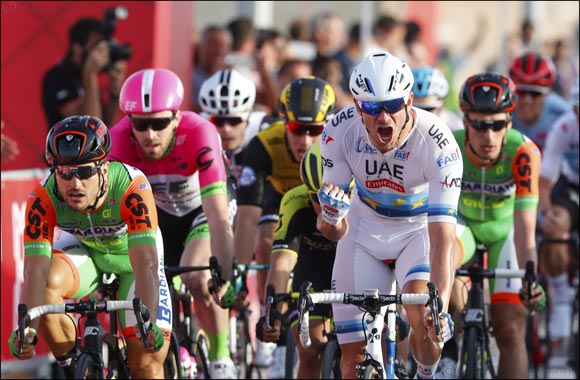 Kristoff Hopes for Hometown Heroics as Hammer Series Starts in Stavanger
Hammer Series | UAE Team Emirates – Wednesday 24 May 2018 - Dubai, UAE:
UAE Team Emirates' European Champion, Alexander Kristoff will line-up alongside fellow Norwegian, Sven Erik Bystrøm as the duo take on the first ever Hammer Series Stavanger this weekend (25 – 27 May). Whilst Bystrøm will be hoping to impress on home turf, the race has extra impetus for Kristoff, who will be racing in his hometown. Joining them are teammates Simone Petilli, Oliviero Troia and Przemysław Niemiec.
Commenting ahead of this weekend's race, Kristoff said: "It's cool to race in Stavanger because I live there and I regularly train on those roads. Competing where people know you personally gives you a lot of motivation and makes this race special."
The Hammer Series Stavanger is the second Hammer Series event, with the inaugural race taking place in the Netherlands in 2017. Part of the UCI European Tour, the series differs from the typical format of the World Tour races. Rather than individual results, Hammer Series pits team versus team as they look to secure victories in each of the three challenges – a climb, sprint and a chase.
The climb discipline will see riders tackle nine and a half laps of an 8.5km circuit, with the first 10 riders crossing the line on each lap picking up points for their team. The team with the most points will take home the victory. The same rule applies for the sprint discipline, but riders will face a longer circuit at 9.3km. The final discipline will be the chase – three laps of a 16.2km circuit where the best ranked team from the previous disciplines starts in first position. The team whose fourth rider crosses the line first wins Hammer Series Stavanger.
Cycling fans looking to catch a glimpse of the action will be able to do so via the livestream on Twitter and Facebook.
Home
>>
Entertainment Section