Home
>>
Government, Legal & Humanity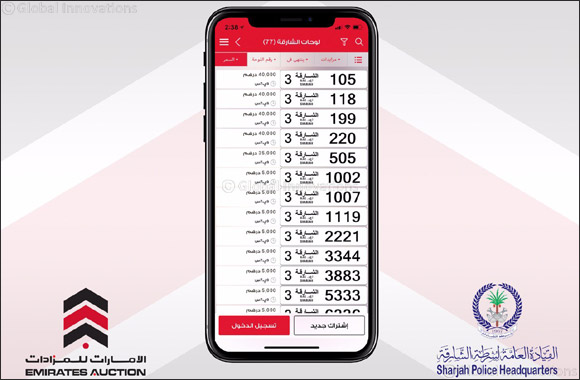 Sharjah Police and Emirates Auction launch a new online auction
The auction includes 77 distinguished vehicle number plates of category 3
Dubai, UAE, May 24, 2018: The Sharjah Police Headquarters, in cooperation with Emirates Auction, has launched an online auction today on 77 distinguished vehicle number plates of category 3. The auction will take place until June 2nd and will include 5 triple-digit number plates, 38 four-digit number plates and 34 five-digit number plates.
Number plates can be bought directly through the platform located in the Vehicles and Drivers' Licensing Department at Sharjah Police, or through the company's website www.EmiratesAuction.com and its smartphone application. Number plates can also be bought by visiting the Emirates Auction customer service center that is located in the Traffic Management Building at Al Ramtha Area in Sharjah.
One of the most prominent number plates in the online auction is number 2019, which represents the number for the upcoming year. Other prominent numbers in the auction are three-digit number plates such as 105 - 118 - 199 - 220 - 505, four-digit number plates such as 1011 - 1020 - 1210 - 1400 - 2001 – 7676 - 8080, and five-digit number plates such as 25000 – 70707, as well as a variety of other numbers that are available for bidding.
Colonel Ali Bualzod, Director of Vehicles and Drivers' Licensing Department at Sharjah Police, stated that both Sharjah Police and Emirates Auction are launching this new package of distinguished number plates through an online auction, due to the remarkable demand and customer satisfaction that was witnessed during the online auctions that were previously launched by both sides.
HE Omar Matar Al Mannai, Executive Director of Emirates Auction, stressed that organizing this auction, in cooperation with Sharjah Police, comes as part of the strong partnership between both sides. He thanked Sharjah Police for the confidence that it has placed on Emirates Auction, which represents an additional incentive for the company to enhance its performance and improve its services by applying the best global practices.
Home
>>
Government, Legal & Humanity Section