Home
>>
Lifestyle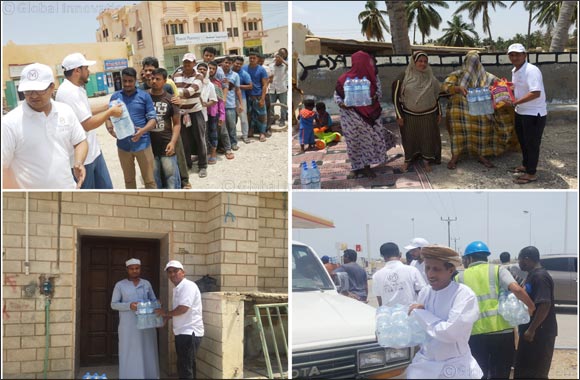 Relief Campaign by Malabar Gold & Diamonds for the people affected by Cyclone Mekunu continues in full strength
Malabar Gold & Diamonds' continuing the relief activities in the Cyclone Mekunu stricken areas
Dubai, UAE, June 3, 2018: Malabar Gold & Diamonds continuing the relief activities in the Cyclone Mekunu stricken areas and contributing in a variety of ways. The company started the relief activities in Salalah, Oman right after the Cyclone is affected. Team of Malabar Gold & Diamonds lead by Mr. Muneer Moideen, Asst. Branch Head, actively involved in the relief activities day & night by distributing groceries, water bottles, Iftar kits etc. Over 10,000 residents from Salalah, Mirbat, Thaka, Haffa, Daris, Dalkuth, Rakyuth are benefitted from the relief campaign.
Mr. Najeeb K, Regional Head, Malabar Gold & Diamonds, Oman commented "We would like to express our deepest sympathy and offer our sincere help to those suffering from the impact of the Cyclone Mekunu. We are hoping the earliest possible recovery and praying to the almighty for the restoration of the affected areas. Considering the number of requests we are receiving, we are extending our relief campaign to the other affected areas as well".
Malabar Gold & Diamonds is always at forefront when it comes to CSR activities. The group sets aside a fixed percentage of its net profit for the benefit of the needy in the respective markets it operates in. They undertake social welfare activities all year long, focusing on five priority areas such medical, educational sector, environment as well as housing and women empowerment.
Home
>>
Lifestyle Section