Home
>>
Real Estate & Retail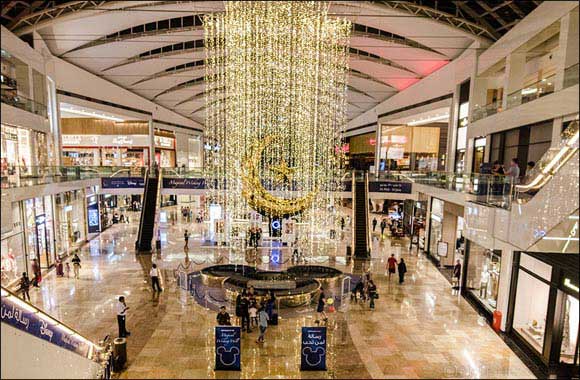 Dubai Festival City Mall Partners with Disney to Create World-First Ramadan 'Magical Wishing Well' Concept
Dubai, UAE, Sunday 3rd June 2018: This Ramadan, Dubai Festival City Mall, together with Disney, is connecting shoppers with their friends and families across the world through an extraordinary "Magical Wishing Well" activation, which comes alive with shoppers' personal greetings using light and music.
With its newest on-ground activity, Dubai Festival City Mall, ranked one of the best super regional malls in the Middle East by You Gov Brand Index 2017, wanted to engage a global audience and share the meaning of Ramadan.
To create this special connection, Dubai Festival City Mall in partnership with Disney designed a bespoke concept specifically for shoppers in the UAE. "We are always striving to capture our shoppers' attention in a meaningful way and bring value to the customer journey. This is why we are one of the leaders in terms of shopper experience and innovation, and are able to collaborate with the partners such as Disney." said Melissa Wingfield, Regional General Manager of Marketing.
"Brands such as Disney elevate our positioning and give more meaning to the customer. We are proud to partner with the beloved world-class brand that has significant demographic stretch and complete synergy with our Mall."
Shoppers are invited to visit one of the Disney pods to share a personal Ramadan greeting with their loved ones, which then appears on the beautiful Magical Wishing Well through a sensory experience of light, sound and water. This is then captured as a photo and sent to their loved ones via social channels.
The personalised messages are recorded at pods throughout the mall via QR coded greeting cards. The message is then transmitted to the wishing well in the Mall's main atrium and is activated when the shopper inserts their greeting, driving footfall across different areas of the Mall.
Commenting on the activation, Chafic Najia, Senior Vice President and General Manager of The Walt Disney Company Ltd, said, "Disney has been bringing people together through the magic of its characters and storytelling for almost 100 years. Creating moments which connect family and friends is a core tenet of the Disney brand and we are proud to be behind such a unique and innovative activation at Dubai Festival City Mall, which enables UAE residents and visitors to connect with their loved ones across the world, whilst giving to a good cause.
"We look forward to continuing to connect people through Disney experiences in the UAE and across the Middle East region, in the coming months and years," concluded Mr Najia.
As the holy month of Ramadan is a time for giving, for every greeting shared, Dubai Festival City Mall will donate one Dirham to the Basma Campaign at the Al Jalila Foundation. Al Jalila is a global philanthropic organization dedicated to transforming lives through medical education and research, and was founded by His Highness Sheikh Mohammed Bin Rashid Al Maktoum, Vice-President and Prime Minister of the UAE and Ruler of Dubai.
"The Magical Wishing Well makes it possible to spread awareness of this great cause in the aim that builds a strong bond of charity during the holy month of Ramadan with our shoppers," Melissa Wingfield concluded.
Home
>>
Real Estate & Retail Section