Home
>>
Automobile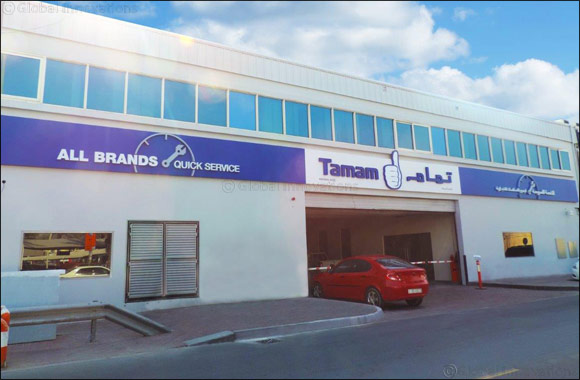 Tamam All Brands Quick Service Offers 50% Discount on All Vehicle Services During Ramadan
Dubai, UAE, June 4, 2018: Tamam All Brands Quick Service, part of National Auto and the Al Ghandi Auto Group, recently announced the launch of its Ramadan promotion, aimed at providing all vehicle brands a one-stop-shop servicing center, coupled with a highly dedicated team of mechanics.
Inspired by the month of giving and the Year of Zayed, the management of Tamam All Brands Quick Service is offering throughout Ramadan a 50% discount on all vehicles, regardless of their brands and models. This announcement comes as part of the company's relentless efforts to expand its offerings to its dedicated and prospective customers in the UAE.
Located opposite Dubai Airport at the Ittihad Road, Tamam Service Center has 10 fully functioning bays and the capacity to service customers in a quick and highly dedicated manner.
Commenting on the promotion, Alex Thompson, General Manager, Tamam All Brands Quick Service, said: "Realizing that many vehicle owners are gearing up toward the summer season by ensuring their vehicles are fully maintained and serviced, we decided to launch our new center that has 10 bay service facility, equipped with all the latest equipment in order to serve our customers better. We are offering a special Ramadan promotion of 50% discount on all labor charges, plus we include a free vehicle health check to ensure everything should continue to run smoothly through the coming summer months, making this an amazing offer."
Thompson added: "Being part of National Auto, Tamam All Brands Quick Service offers customers the rich history of quality assurance and dedicated after service customer attention that have become synonymous with the Al Ghandi Auto Group's brand of companies."
The strategic location of the Tamam All Brands Quick Service Center makes it accessible to customers in new and old Dubai, as well as the surrounding Emirates.
Tamam Deira Ramadan Workshop Timings:
Morning Shift - 8.00am-2.00pm
Evening Shift – 8.30pm-1.30am
Home
>>
Automobile Section