Home
>>
Government, Legal & Humanity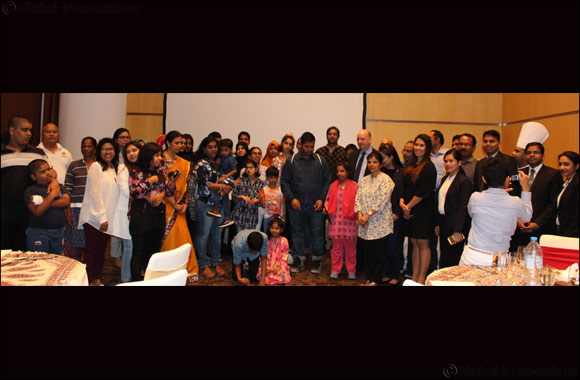 BurJuman Arjaan by Rotana and Jumeira Rotana Hosts an Iftar with SNF Children with Special Needs
5 June 2018, Dubai, UAE: BurJuman Arjaan by Rotana and Jumeira Rotana Dubai embraced the Holy Month of Ramadan today by celebrating it together with the Special Needs Future Development Centre (SNF). The hotels invited children with special needs along with their families to break their fast together with the hotel teams.
All families, Teams and Management of SNF joined for Iftar and enjoyed a delectable array of Arabian dishes to break their fast. To complete the event and make it more memorable, the teams of both hotels distributed gifts from Babyshop to all students and grocery items to each family that were provided by the RSA Insurance.
Mr. Ulrich Hoffmeister, General Manager of Jumeira Rotana and BurJuman Arjaan said, "Ramadan is a time of giving and sharing; especially with those who need it most. It was a great experience seeing these children relishing this momentous event with us."
"Our teams were delighted that we were able to give the children of SNF and their families an eventful Iftar night of excitement and glee," Ulrich added.
Commenting on the event Ruban Shanmugarajah, Chief Operating Officer of Babyshop said, "This noble initiative falls directly in line with the spirit of Babyshop's Ramadan Campaign - A World Without Walls, which brings together people from different cultures and backgrounds to open up their hearts, doors and minds and see the world around them without walls. This campaign stands for acceptance without prejudice, a non-judgmental outlook, practicing tolerance and loving each other. As part of this campaign, we at Babyshop are excited to contribute to this CSR initiative and continue to deliver the special message of unity and togetherness in the region during the holy month of Ramadan."
Jumeira Rotana and BurJuman Arjaan by Rotana would like to thank Babyshop for its continuous support and to RSA Insurance, for extending their blessings to the families of SNF. For the past years, Jumeira Rotana and BurJuman Arjaan by Rotana have been very active with several community services and support of non-government organizations. The hotel initiatives confirm their commitment to their core values of respect and integrity that are demonstrated by the desire of "giving back" to the community.
Home
>>
Government, Legal & Humanity Section