Home
>>
Entertainment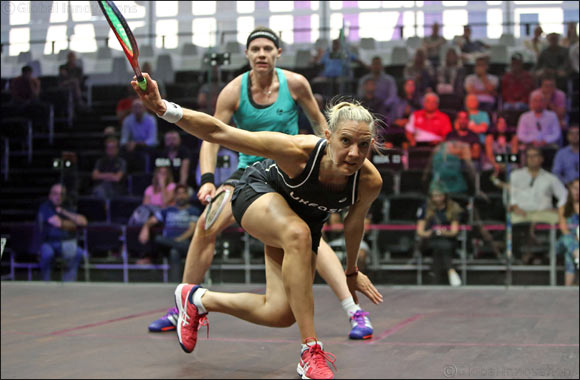 Massaro on Track to Defend Title, Rosner Through to Semi-finals
Dubai, UAE, June 7, 2018: Defending champion Laura Massaro took a step closer towards the knockout semi-finals with a victory over England teammate Sarah-Jane Perry in the afternoon session on Day 2 of the ATCO PSA Dubai World Series Finals at Emirates Golf Club today, while Germany's Simon Rosner notched up a second win to secure a place in the semi-finals.
Massaro, 34, is firmly in the driving seat in Group B of the women's event after she followed up an impressive opening day win over World Champion Raneem El Welily with a 2-1 victory over her fellow countrywoman.
Massaro made a blistering start as she stormed to a 10-6 lead in the opening game, before Perry showcased her fighting spirit to come back to force a tie-break before holding two games balls of her own, but Massaro remained composed under pressure to re-establish her lead and go a game up.
Perry responded brilliantly in the second to level the scores but was unable to get the better of her opponent in game three as World No.7 Massaro edged it 11-8.
In the next match Egypt's Karim Abdel Gawad delivered a second defeat to Gregory Gaultier after claiming a 2-1 victory to keep his semi-final hopes alive after losing to Germany's Simon Rösner in the opening round.
It was a battle of two former World No.1s today, with Gaultier cutting a frustrated figure on court at times despite taking the opening game after coming back from 9-7 down. Gawad was dominant in the second game as he played some fluid squash to unsettle the Frenchman and level the scores.
Gaultier continued to look flat in the third and it was all Gawad as he cruised to an 11-4 victory in the final game to leave Gaultier needing results elsewhere to go in his favour if he is to have any chance of making it to the semi-finals.
"I've been playing the whole season so I could come here to play in Dubai at this amazing venue, so I didn't want to let things go without even trying. Today I just tried to stay strong mentally a little bit and Ali [Farag, Gawad's next opponent] talked to me between the games and told me to try and forget about the pain a little bit and enjoy your squash."
In the third match of the session World Champion Raneem El Welily made it four wins in a row over World No.5 Camille Serme after she came back from a game down to take a 2-1 victory – meaning that the battle to qualify for the semi-finals from Group B will be wide open going into the final day of group stage action.
Victory for Serme would have seen both her and current group leader Laura Massaro book their places in the semi-finals and the match looked to be going the way of France's Serme after she took a one-game lead by an 11-8 margin.
El Welily found her range in the second though to draw level before dominating the third game, dropping just five points as she wrapped up an 8-11, 11-7, 11-5 victory in 34 minutes to stay in with a chance of reaching the semi-finals.
"I had to push myself really hard to play the way I did today. Mentally and physically, it was hard for me today but I'm happy that at least mentally I was better than I was yesterday. said El Welily, who was runner-up at this tournament in 2016.
In the final match of the session Germany's Simon Rosner became the first player to qualify for the semi-final stage after he came back from 1-0 down to defeat World No.2 Ali Farag – meaning three-time winner Gregory Gaultier has bowed out at the group stage for a second year running.
Gaultier, the current World No.7, has lost both of his matches so far this tournament, meaning he will be unable to pick up enough victories to qualify, with Rösner currently on two wins, while Farag and Gawad are on one win apiece and face each other in a decider tomorrow.
Rösner's superior head-to-head record over both Farag and Gawad means that he qualifies top of the group after he stormed to an 11-3 victory in the final game of today's clash with Farag, having already recovered from a game down to draw level.
"It's more than I could have wished for to be in the semis after two matches by beating two really good players," said Rösner, who also made it to the semi-finals of last year's event.
"It feels amazing, just like it did last year, but last year there was a difference because I wasn't sure if I would be in until the very last point that I played against Nick [Matthew] so getting through is amazing.
The action continues this evening and tomorrow with Day 3 of the Group Stages. Matches will take place at 3:00pm, 3:45pm, 4:30pm and 5:15pm (Group B) and 8:00pm, 8:45pm, 9:30pm and 10:15pm (Group A) with the semi-finals due to take place from 8:00pm on June 8. The finals will commence at 8:00pm local time on June 9.
Day 2 results - Afternoon Session:
Women's Group B
[4] Laura Massaro (ENG) bt [8] Sarah-Jane Perry (ENG) 2-1: 15-13, 7-11, 11-8 (48m) [2] Raneem El Welily (EGY) bt [6] Camille Serme (FRA) 2-1: 8-11, 11-7, 11-5 (34m)
Men's Group B
[8] Karim Abdel Gawad (EGY) bt [7] Gregory Gaultier (FRA) 2-1: 9-11, 11-8, 11-4 (41m)
[4] Simon Rösner (GER) bt [2] Ali Farag (EGY) 2-1: 7-11, 11-9, 11-3 (40m)
Home
>>
Entertainment Section