Home
>>
Entertainment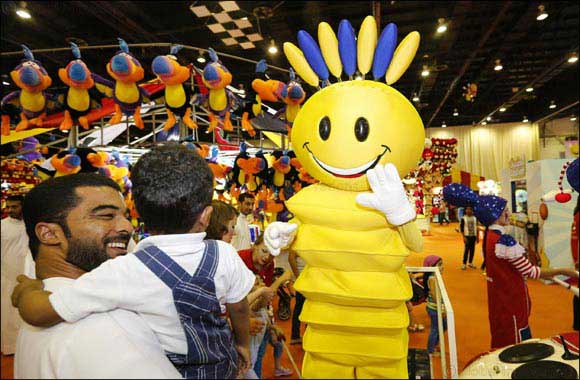 Modhesh World Set for 19th Edition With Packed Lineup of Family Fun
19th edition of Modhesh World runs from 7 June - 25 August at Dubai World Trade Centre
Region's much awaited family edutainment destination to offer immersive experiences
80-day excitement includes interactive shows by Dubai's lovable mascot Modhesh and world's most famous cat Hello Kitty
Dubai, UAE 7 June 2018: Modhesh World, one of the most popular family edutainment destinations in the region, will usher in its 19th edition this year with a lineup of family fun featuring an array of world-class entertainment activities, immersive and themed experiences.
Running from 7 June to 25 August, Modhesh World in partnership with DEWA has unveiled a packed calendar of events and activities that will take place in eight distinctive halls at the Dubai World Trade Centre, offering engaging games, rides, stage shows, acts by roaming artistes, adventure-oriented activities, and much more to create 80 days of excitement during the summer.
Modhesh World is organised by Dubai Festivals and Retail Establishment (DFRE), an agency of the Department of Tourism and Commerce Marketing (Dubai Tourism), and forms part of DFRE's much awaited annual summer calendar of festivals and celebrations aimed at positioning Dubai as the summer destination of choice.
Ahmed Al Khaja, CEO, Dubai Festivals and Retail Establishment, said: "Modhesh World will be the place to go for family edutainment in the summer, further enhancing Dubai's position as a leading family tourism destination. This year's Modhesh World has many innovative features, immersive and themed activities to spark curiosity and provide entertaining learning opportunities for visitors of all ages. We invite families and children to visit Modhesh World and discover a whole new world of exhilarating and enriching experiences, as part of a memorable summer season in Dubai."
Among the highlights of the 19th edition of Modhesh World, which will run under the tagline 'My Modhesh, My World' are interactive appearances and activities by Dubai's famous mascot Modhesh and internationally renowned entertainment character Hello Kitty, education-based fun activations by different government departments, Modhesh-run promotions offering visitors the chance to win fabulous prizes and a unique Modhesh Bazaar where you can purchase an extensive range of Modhesh merchandise.
Since it opened its doors in 2000, Modhesh World has been inspiring young minds by combining education with entertainment to offer a range of experiences that kids of all ages find both engaging and enjoyable at the same time.
Modhesh World 2018 timings
7 - 14 June
(Last week of Ramadan): 6pm to 2am
15 Jun to 17 Jun
(Eid holidays): 10am to midnight
18 June – 21 August
Sat to Wed: 10am to 11pm
Thu & Friday: 10am to 12am
22 – 25 August
Eid Al Adha): 10am – midnight
Tickets
Entry fee AED25 (Halls 1-7), free entry to Hall 8
Free for
• Children below 3
• Senior Citizen above 60
• People of Determination
Packages
Ramadan Package: 7-14 June
AED 99 includes entrance ticket with unlimited play
Happy Pass: from 10 am to 2 p.m. 18 June onwards
AED 199 inclusive of entrance ticket and unlimited play
MODHESH WORLD 2018 CALENDAR OF EVENTS:
Modhesh Tour
24 May - 25 August
Meet Modhesh, the lovable mascot of Dubai's summer season, as he makes a citywide tour to spread the messages of fun, joy, caring and sharing, among children, teenagers and families. The Modhesh Tour will feature 'Meet-and-Greet' sessions and shows for school children and 'children of determination', as well as visits to malls to entertain families.
Modhesh Experience in Burj Khalifa
15 June - 25 August
10am-9pm
Visitors to Dubai will have the opportunity to learn about and interact with Modhesh at a thrilling new experience at Burj Khalifa. Visitors, especially those who are unfamiliar with Dubai's famous mascot, will be able to enjoy a mix, interactive and entertaining experiences at this unique activity which will take place at Level 112 of the world's tallest building,
Modhesh Zones
7 June – 25 August
The myriad of events and activities at Modhesh World will be spread across eight distinctive halls at the Dubai World Trade Centre with four Modhesh Zones featuring most of the fun and edutainment activities:
Show Land – Hall 1
A zone featuring the main stage for entertainment shows, food and beverage stalls, and activations by government entities.
Amusement Park - Halls 2- 6
This zone will feature a range of entertainment activities such as traditional rides, arcade and redemption games, skilled games, kids' inflatables, water-based games, trampoline and bungee jumping, amusement rides, and kids go-kart activities.
The Hangout – Hall 7
A collaborative zone that is dedicated to children, teenagers and families to experience Modhesh World in a unique unconventional setting, allowing them play together, as well as individually on their own. The zone includes technology-based and gaming activities. .
Modhesh Bazaar - Hall 8 (Free Entry)
A free to enter hall, visitors can savour different tastes at F&B outlets and also enjoy a shopping experience at retail stalls, offering a mix of home-grown brands and a variety of Modhesh merchandise.
Hello Kitty
7 June - 25 August, Hall 8
The Hello Kitty zone provides young minds with an interactive space to learn, explore and spend their time in the fun-filled company of their favorite cat and immerse themselves in creative activities for a complete edutainment experience. Activities include the opportunity to explore Hello Kitty's garden in a typical Japanese setting, enjoy a fun and a safe way to experience Sumo, the renowned Japanese martial arts and cultural sport, visit a Dress Up Shop where kids can try different typical and traditional Japanese fashion attire, as a well as live stage shows.
Modhesh Promotions and Incentives
7 June - 25 August
Visitors to Modhesh World will have the chance to participate in promotions and competitions including a 'Spin the Wheel' promotion to coincide with the start of Dubai Summer Surprises. Several prizes will also be offered to lucky participants including a car, shopping vouchers and other exciting gifts.
Cirque Hip Hop
23 July - 25 August
A unique stage show featuring break dancers, street dancers and hip hop-themed circus acts. There will be four stage shows daily, each of 25 minutes duration.
Stage shows
Modhesh World Stage shows and roaming entertainment
14 June - 25 August
Stage shows and performances by roaming artistes at Modhesh World will keep families and children entertained including Modhesh Character shows based on three themes – Treasure Hunt, Fairytale and Wildlife Safari. There will be three stage shows daily, each of 25 minutes duration.
The 3 Wow Parade
Featuring three different parades featuring performers in stunning costumes never seen before in Dubai, the 3 Wow Parade is bound to enthrall families visiting Modhesh World. The Delight Circus Parade will take place on 27 June-2 July, 18-24 July, 8-12 August, the Alice in Wonderland Parade will be on 20-25 June, 11-16 July, 1-6 August and the Under Water Parade will be held on 14-18 June, 4-9 July and 25-30 July.
Modhesh Meet & Greet
7 June – 25 August
Modhesh will be seen in action daily at a themed parade in a car and finishing on the stage for Meet-and-Greet sessions with fans.
Activations by Dubai government entities
Different Dubai government entities will participate in Modhesh World by running activations aimed at imparting knowledge to children in a fun way. Activations by government entities include 'Little Consumer' by the Department of Economic Development, 'Modhesh Ambulance' by the Dubai Corporation for Ambulance Services, 'Your safety is our happiness' by Dubai Civil Defence, 'Enjoy statistics with Omar' – Dubai Statistics Center, 'Hazar Show' by Dubai Municipality, EGA Amazing Global Aluminium Kiosk by Emirates Global Aluminium and activities by Dubai SME and Ministry of Education.
Home
>>
Entertainment Section