Home
>>
Real Estate & Retail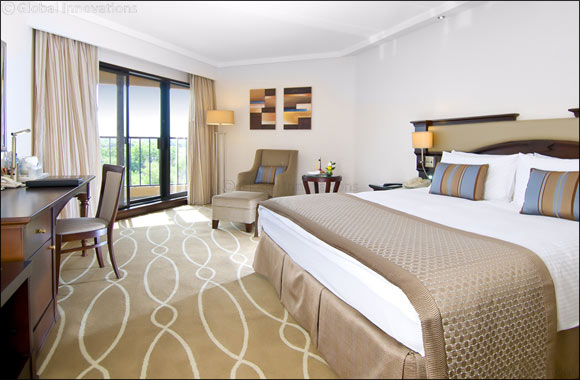 Eid Al Fitr, the FIFA World Cup and much more at Danat Al Ain Resort
Gear up for an extended celebratory period at the 5-star luxury resort in Al Ain
Dubai, UAE, June 10, 2018: Eid Al Fitr is a time for families to come together and celebrate with the most indulgent and delicious food while making unforgettable memories. Danat Al Ain, the 5-star luxury resort in Al Ain looks forward to hosting you and your families this Eid Al Fitr with incredible stay packages and irresistible culinary experiences to mark the end of Ramadan.
If the predictions of certain astronomers are to be believed, Eid Al Fitr falls on Friday, June 15th thus making it a long weekend of togetherness with family and friends. For this special occasion, the Resort has introduced stay packages inclusive of buffet breakfast starting at AED 699. To embark on this remarkable occasion, Oasis Café will host a BBQ dinner on the first day of Eid followed by a sumptuous Eid brunch on the second day of Eid at Arabesque .
Co-incidentally, next weekend will be the opening weekend of the most awaited tournament on the planet, the FIFA World Cup in Russia. The 2018 World Cup is a family affair at Danat Al Ain Resort with something in store for football crazy dads, mums looking to be pampered and fun activities for kids.
Each of the tournament's games, from Saudi Arabia versus hosts Russia in the first match through to the final, will be screened live on the 12 HD Screens at Mcgettigans (in English commentary) and Oasis (in Arabic).
The entertainment continues even at Half Time with belly dancers and special performances by Arabic personalities. Oasis Café will be the prime venue of the opening night BBQ dinner that could be the first day of Eid too.
Both venues (Mcgettigans and Oasis ) are the perfect places for families, large groups of friends to sit back and enjoy the world's largest football extravaganza from kick-off unto the final whistle and beyond.
Families travelling with kids can leave the children in the adventurous kids-playing areas whilst mums and dads settle with their friends to enjoy the games.
Home
>>
Real Estate & Retail Section