Home
>>
Technology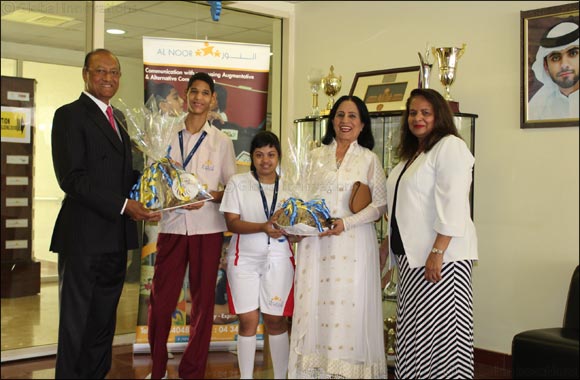 Nikai Group supports Al Noor Centre with assistive technology devices
Dubai, June 14, 2018: Mr Paras Shahdadpuri, Chairman of Nikai Group of Companies has donated assistive technology equipment to the students of Al Noor Training Centre for Children with Special Needs.
In line with the Year of Giving and the Year of Zayed initiative by treading on the path of the giving spirit, Nikai has donated equipment that were long required by the students to fulfill the needs of their therapy and overall improvement. Mr Shahdadpuri has been a patron of Al Noor and has been committed to aiding the Centre over the years.
Six equipment of various categories were donated including - Variable Height Electric Tilt table, Range of Swtiches, Prox Talker, Tilting Therapy Bench, Light Aide and Boardmaker. Every equipment is used for specific purpose and benefits various levels of students at Al Noor.
The devices will provide a holistic approach to learning and growth and to benefit all of the 220 students at Al Noor. Some of them will benefit different students in varied stages of growth.
Commenting on the contribution, Mr. Paras Shahdadpuri said, "We are thankful to Al Noor Training Centre for giving us the opportunity to support their needs.
These children are the future of this great nation and we must do all we can to facilitate their continued growth. We are also happy to continue and be a part of His Highness Sheikh Mohammed bin Rashid Al Maktoum Vice President and Prime Minister of the UAE and Ruler of Dubai initiated the Year of Giving that 2017 was declared as. As an organization, Nikai believes in providing a helping hand to the society and contributing towards various causes. We hope to continue doing the same."
Mrs. Isphana Al Khatib, Director at Al Noor Training Center for Children with Special Needs, said, "We would like to extend our gratitude to Mr. Shahdadpuri and Nikai Group of Companies for providing us with the much-needed resources. All these resources will help to enhance functions across different domains of developments and give our children access and opportunity to do different activities that might not have been otherwise possible."
The Nikai Group is a global conglomerate with business interests in Electronics & Appliances; Information Technology; General Trading; and food stuff.
Home
>>
Technology Section