Home
>>
Real Estate & Retail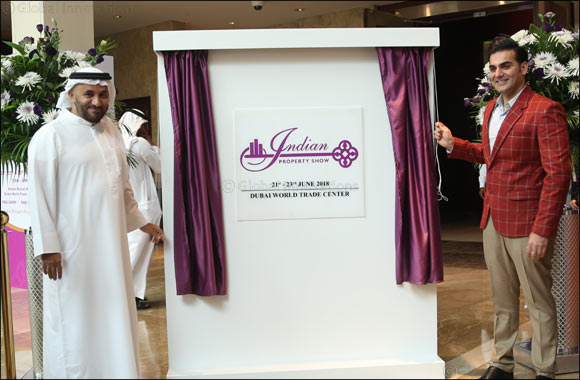 Realty exhibition brings plethora of investment opportunities for expat Indians
HE Sultan Butti Bin Mejren inaugurates Indian Property Show
Arbaaz Khan, renowned Bollywood actor and producer also attended the inauguration ceremony along with other dignitaries and industry honchos.
The show is being held at Dubai World Trade Centre from 21-23 June at Sheikh Rashid Hall
21 June 2018; Dubai, UAE: Popular realty exhibition, the Indian Property Show has returned to Dubai with its 22nd edition among positive sentiments and a number of worthy investment opportunities for expat Indians in the UAE. The event being held at Dubai World Trade Centre, Sheikh Rashid Hall, was inaugurated by His Excellency, Sultan Butti Bin Mejren, Director General of Dubai Land Department along with Bollywood celebrity Arbaaz Khan. Organised by Sumansa Exhibitions, the three-day exhibition features developers from all over India who are set to showcase their flagship commercial and residential projects to an increasing NRI customer base at one of the region's premier real estate events.
The property fair, scheduled from Thursday 21 to Saturday 23 June is open to visitors from 12 noon-8pm on all three days, with a provision for free parking. Entry to the event is free. Additionally, the organizers have also created a designated play area for children so their parents have enough time to view properties at ease.
The show will once again host informative seminars where key speakers will be holding valuable sessions pertaining to investments, property buying procedures, real estate laws, high growth cities, investment hotspots, legalities, etc. Visitors will also benefit from seminars on Vaastu – the science of architecture – and ways to bring positive energy within the home.
"Buying property can be a daunting process especially for first time buyers, hence our goal with the exhibition is to provide a holistic approach to buyers on what to expect when embarking on this journey. The Indian Property Show will not only present a plethora of trusted and quality projects but will also provide a chance to address common concerns of the buyers," said Kowshik Mukherjee, Head of the Indian Property Show and Chief Operating Officer Sumansa Exhibitions.
"Additionally, property ownership also brings benefits such as security, stability, privacy, and the freedom to control your own environment, hence we want to make it easy for buyers to efficiently compare different options and also make feasible decisions all under one roof at the Indian Property Show," added Mukherjee.
"With stable political outlook and focused steps taken by the existing central government in India, it has surely become the first choice for NRIs to invest in properties and stocks. Real Estate industry has evolved as necessary corrections have taken place in last 2-3 years due to demonetization, RERA, followed by GST roll out. These steps have also backed up initiatives such as Housing for All by 2022, lower rate of interest rates on home loans and better infrastructure development at large with Smart City project, commented Mr. Atharv Parekh, Associate Manager, International Sales, Adani Group.
The Indian Property Show is supported by CREDAI Maharashtra and sponsored by Silver Sponsor Adani Realty. While Al Ghurair Exchange is the Remittance Partner, Mashreq Bank is the Official Banking Partner and 89.1 Radio 4 FM is the radio partner for the event.
Home
>>
Real Estate & Retail Section