Home
>>
Real Estate & Retail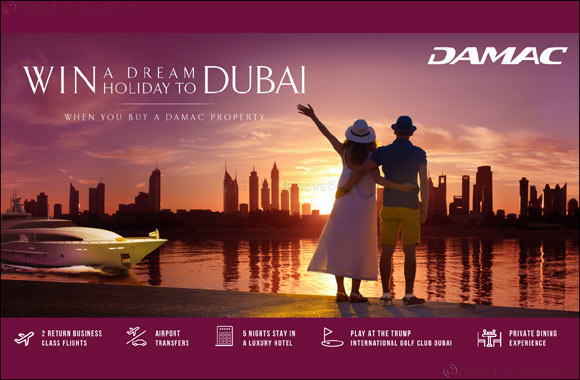 DAMAC Properties to showcase five of its Dubai flagship properties at LPS Beijing 2018
DAMAC's main sponsorship of LPS Beijing 2018 highlights China's importance to the Dubai property market and the Company's long-term commitment to Chinese investors
Dubai, UAE – 21 June 2018: DAMAC Properties, the leading luxury property developer based in Dubai, is showcasing a portfolio of luxury properties at Luxury Property Show (LPS) Beijing 2018, being held from June 22 – 24, 2018, at the Wanda Vista Beijing. DAMAC is a main sponsor of LPS 2018, and will be showcasing five of its most sought-after developments in Dubai to over 6,000 invitation-only visitors to the show.
Since 2002, DAMAC has been delivering luxury living experiences to property buyers from all over the world. As of 2018, DAMAC has delivered over 20,800 homes, and has a development portfolio of over 40,000 units at various stages of progress and planning. It is also has more than 10,000 hotel rooms, serviced apartments and hotel villas in various stages of development which will be managed by its hospitality arm, DAMAC Hotels & Resorts.
"DAMAC has been the developer of choice for Chinese investors in Dubai for many years, and continues to attract Chinese buyers who are looking for excellent investment returns on properties in a safe, transparent and regulated property market like Dubai," said Hany Hussein, Vice President – International, DAMAC Properties. "LPS Beijing 2018 enables DAMAC to get closer to more investors who are seeking to tap into Dubai's real estate market, one of the most sought after and where global investors can see immediate returns in a very short period."
Visitors to the DAMAC stand who purchase a property will be entered into a daily draw to win one of three all-expense paid trips for two to Dubai, including two business class flight tickets, transfers, five night stay at a luxury hotel including dining experiences, and complimentary rounds of golf at the Trump International Golf Club Dubai.
DAMAC is showcasing five of its most sought-after luxury developments in Dubai to the visitors of LPS, including luxury apartments, hotel apartments, hotel villas and serviced apartments from its developments across Dubai. These will include:
Prive – Delivery 2018
DAMAC Maison Privé is a serviced hotel apartment property that offers the service standards of a luxury hotel when you're in residence, and rental returns when you're away, in one of Dubai's most dynamic neighbourhoods, Business Bay.
DAMAC Towers by Paramount – Delivery 2018
DAMAC Towers by Paramount Hotels & Resorts Dubai is a hotel and residential complex located in the heart of the stylish Burj area. This four-tower development includes approximately 1,200 luxury serviced suites in three towers, and offers sumptuous living with a Hollywood flavour. A fourth tower will house the world's first Paramount Hotel and Paramount Residences.
Golf and Greens Ready Apartments at DAMAC Hills – Ready Now
DAMAC's ready apartments are located in stunning buildings that are set perfectly on the championship golf course of the Trump International Golf Club Dubai with its sprawling greens and lush fairways. Life at DAMAC Hills means enjoying incredible golf views throughout the day from large private terraces and spacious homes in a variety of sizes and arrangements.
AYKON City – Delivery 2020
AYKON City is set to rise as a new architectural icon for Dubai, and is one of DAMAC's most ambitious UAE development projects. It will offer residents the convenience of living in a multi-purpose neighborhood, located within the heart of Dubai, with stunning views of the Dubai Canal.
AYKON City will be home to AYKON Plaza, an entertainment and lifestyle hub for the community that includes swimming pools, spa, beach club, cafes, restaurants, yoga and tai-chi areas, as well as a residents-only private recreation space called The Club.
DAMAC Residenze – Ready now
DAMAC Residenze with interiors by Fendi Casa offers spectacular views of the Palm Jumeirah along with a stylish lifestyle experience through its luxury apartments that include the latest designer furnishings and access to world-class amenities. Located from levels 43 to 84 in the DAMAC Heights Tower, this luxury property comes complete with a dedicated lobby exclusively for DAMAC Residenze tenants.
Home
>>
Real Estate & Retail Section