Home
>>
Banking & Investments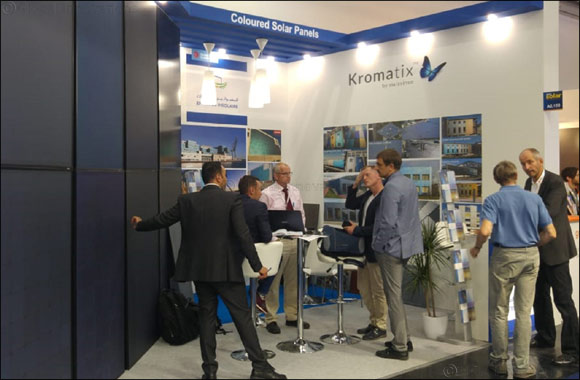 Emirates Insolaire's first-of-its-kind coloured solar panel technology gets strong response at Intersolar Europe
Dubai, June 23, 2018: Dubai Investments PJSC [DFM: DIC], the leading, diversified investments company listed on the Dubai Financial Market, has announced that its joint venture Emirates Insolaire LLC, a pioneer in new solar technologies, has received strong response for its sustainable, energy-efficient coloured solar panel technology at Intersolar Europe exhibition, the leading solar exhibition in the world.
Emirates Insolaire, Dubai Investments' joint venture with SwissINSO Holding Inc., which offers the world's-first KromatixTM coloured solar panels technology, generated a lot of enquiries for building integrated photovoltaic modules from consultants, architects, entrepreneurs and photovoltaic manufacturers at the exhibition, held between June 20 and 22, 2018 at Munich, Germany. Over 800 exhibitors and 50,000 trade visitors attended.
Reinforcing the surging demand for Building-Integrated Photovoltaics [BIPV] across the globe, the KromatixTM technology is now established worldwide as reference for beauty, high efficiency and durability for BIPV.
According to industry reports, 2017 marked a milestone for the Photovoltaics industry. For the first time, the solar capacity installed around the world exceeded 100 gigawatts [GW]. Industry experts anticipate deployment to reach as much as 110 GW in 2018 alone.
Rafic Hanbali, Managing Partner of Emirates Insolaire, said: "The solar PV industry is booming with end-market demand hitting record levels. The KromatixTM solar glass is expected to become a rage, with a number of projects completed in Europe and new ones expected soon."
"Each photovoltaic module of Emirates Insolaire is capable of generating 170 to 190 watts per square meter for roof or 110 to 150 watts per square meter for facades. The company has already completed projects in Switzerland, Brazil, Denmark, Sweden, Austria & Germany and is completing the first five projects in the UAE."
Home
>>
Banking & Investments Section