Home
>>
Lifestyle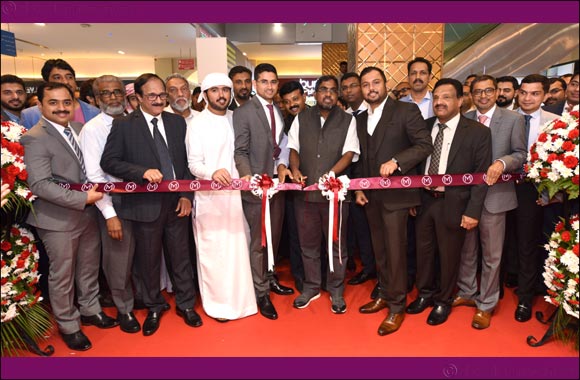 Malabar Gold & Diamonds' opened its renovated & expanded showroom at Madinat Zayed Shopping Centre, Abu Dhabi, UAE
Malabar Gold & Diamonds opened its renovated and expanded Madinat Zayed Shopping center showroom
Unveiled latest collection of jewellery in gold, diamonds and precious gems.
Mr. MP Ahammed, Chairman – Malabar Group inaugurates the renovated & expanded showroom at Madinat Zayed Shopping Centre, Abu Dhabi, UAE on 21st June, 2018 in the presence of Mr. Shamlal Ahamed, Managing Director – International Operations, Mr. Abdul Salam KP, Group Executive Director, Malabar Group, management team members of Malabar Gold & Diamonds, media & well-wishers
Offers and promotions:

Free one gram gold coin on every diamond purchase of AED 3000
Dubai, UAE, June 23, 2018: Malabar Gold & Diamonds, one of the largest jewellery retailers globally with over 215 retail outlets has now restyled and expanded its showroom at Madinat Zayed Shopping Centre, Abu Dhabi to accommodate the growing customer footfall. The renovated & expanded showroom at Madinat Zayed Shopping Centre, Abu Dhabi, UAE was inaugurated on 21st June by Mr. MP Ahammed, Chairman – Malabar Group in the presence of Mr. Shamlal Ahamed, Managing Director – International Operations, Mr. Abdul Salam KP, Group Executive Director, Malabar Group, management team members of Malabar Gold & Diamonds, media & well-wishers. Malabar Gold & Diamonds showroom, lying in one of the busiest shopping destinations of Abu- Dhabi has renovated the showroom to cater to the growing customer footfall and to accommodate a larger collection of the one-stop fashion gold, diamonds and precious gem jewellery. The new showroom is aiming to offer the customers with an exceptional shopping experience in terms of the availability of the latest and most fashionable jewellery, outstanding customer service as well as an excellent shopping ambience. Suggestions and requests from the customers have been taken into account to bring a fresh look and feel to the showroom thus giving the customers a customer-friendly shopping experience to look forward to.
In connection with the Summer celebrations, Malabar Gold &Diamonds is giving free one gram gold coin for every diamond purchase of worth AED 3000. Customers have the chances of getting up to 10,000 free gold coins through this offer.
To add more glitter to this season, they have also unveiled an enviable collection of jewellery in gold, diamonds and precious gems to suit the tastes of their multicultural and multinational customers. Malabar Gold & Diamonds has incorporated these designs as a part of various brands presented at Malabar Gold & Diamonds' namely Ethnix - Handcrafted Designer Jewellery, Era - Uncut Diamond Jewellery, Mine - Diamonds Unlimited, Divine- Indian Heritage Jewellery, Precia - Gem Jewellery and Starlet – Kids jewellery.
The restyled showroom is worth a visit for all the new designs on sale, the great revamped shopping ambience and the summer promotion offers. Hurry and head to the Madinat Zayed Shopping center for the ultimate shopping experience!
Home
>>
Lifestyle Section