Home
>>
Banking & Investments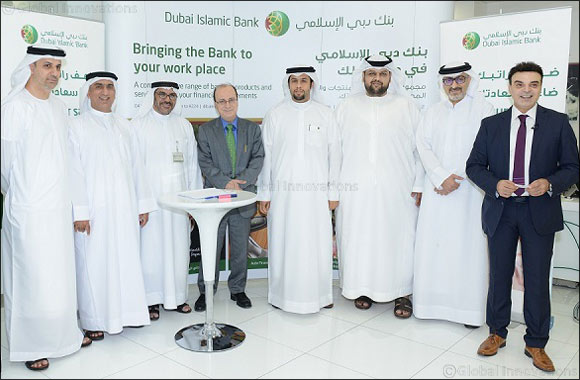 DIB Champions Customer Happiness With 9th Double Your Salary Draw
UAE, Dubai, June 24, 2018: Dubai Islamic Bank (DIB), the UAE's largest Islamic Bank, has announced the ninth winner of its "Double Your Salary" monthly campaign, held at DIB's City Center Sharjah branch, officiated by a representative of Sharjah Economic Development Department "SEDD".
DIB launched its "Double Your Salary" promotion in September 2017. The monthly draw selects a new customer that has moved their payroll or salary account to the bank, and doubles their salary for that month. 10 runners-up are also selected and each receives an AED 5,000 pre-loaded DIB card.
Commenting on the draw, Nasser Al Awadhi, Chief of Consumer Banking, at Dubai Islamic Bank said; "The promotion has enjoyed unprecedented success, providing our customers with rewarding schemes to realize their goals and dreams. We are delighted to have the opportunity to reach our ninth draw and our congratulations go to Renette Henrico on winning double her salary for this month.'
The popular initiative has been receiving strong positive response so far helping 99 customers realize their dreams. Past winners of the Double Your Salary campaign include Mr. Ward Raddad the promotion's first winner who commented; "Imagine your salary doubles in a given month. It would be a dream scenario for anyone. The money I won through this promotion has helped me tremendously and I would encourage others to follow my example and participate in the coming draws."
The winner of the 5th draw, Youssef Abdelsalam Soliman Amin, a resident from Egypt said: "I truly appreciate the bank giving me the opportunity to win this prize money. I signed up for a salary transfer account just a few months before winning this prize money."
The 8th draw winner, Alexey Nazarov, a resident from Russia said: "I cannot believe that I have won this money. It's amazing to think that transferring my salary to Dubai Islamic Bank has seen me benefit in this way. I haven't yet decided how I will spend the money but rest assured, it will be put to good use. I want to thank DIB for giving me the opportunity to win, it's an amazing feeling to find that your Bank is giving you double your salary."
Salary Transfer Account customers enjoy a range of distinctive benefits such as free remittance to their home country, a one month salary in advance facility, an auto finance and personal finance facility at a competitive profit rate and much more. Keeping customers' convenience in mind, DIB makes it easy to open a salary transfer account through its branches and digital portals.
Home
>>
Banking & Investments Section