Home
>>
Technology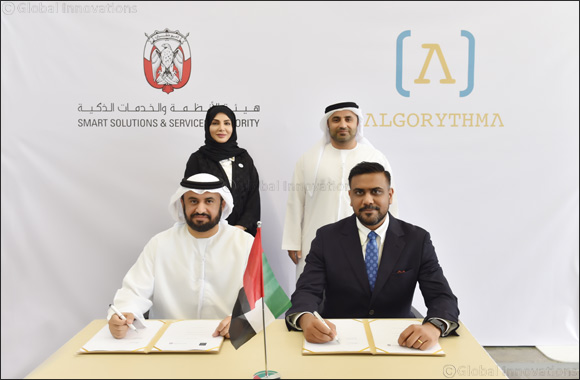 Smart Solutions & Services Authority and Algorythma
Sign a Memorandum of Understanding to Foster Collaboration in Innovation and Technology
Abu Dhabi, UAE 4 July 2018 – The Smart Solutions & Services Authority (SSSA) and Algorythma, the UAE based first-rate end-to-end technology service company, signed today a Memorandum of Understanding, establishing the framework to pursue close cooperative projects in connection with digital and technology transformation initiatives and strategies, in a commitment to achieve the Abu Dhabi Vision to improve the quality of life of the residents and provide them with all means of success, in addition to enhancing the economic environment of the Emirate.
Under the MoU, Algorythma and the Smart Solutions & Services Authority will explore further collaboration in digital initiatives and strategies in areas of Technology stack, User Experience, Micro services, Agile practices enabling cognitive and A.I. capabilities such as Computer Vision, Hypermedia, Natural Language Processing, User Interface and Machine Learning.
The MoU also marks collaboration in innovation projects on the development and application of technologies such as the use of blockchain and distributed ledgers, digital asset exchanges as well as startups' support in fields that are particular to the both parties' interest interest. and the Education Program and Journey Labs mechanism. Algorythma and the Smart Solutions & Services Authority intend to extend their relation through this MoU to a broader spectrum by collaborating in the setting up of an A.I. Centre of Excellence for enabling both Government and private agencies to run PoCs and R&D programs for their A.I. based business cases as well as provide leadership, best practices, research, support and training.
The MoU was signed in Masdar City, by Mr. Saeed Mohammed Al Mansouri, Executive Director of the Shared Government Services Division in the Authority, at the Smart Solutions & Services Authority, and Mr. Divyesh Mahajan, Chief Technology Officer at Algorythma, in the presence of H.E. Dr. Rawda Saeed Al Saadi, Director General of Smart Solutions & Services Authority and Dr. Saleh Al Hashemi, Chief Executive Officer at Algorythma as well as senior representatives from both parties.
Mr. Saeed Mohammed Al Mansouri, Executive Director of the Shared Government Services Division said: "This MoU with Algorythma, reflects the Smart Solutions & Services Authority's perception to foster all joint efforts and effective cooperation initiatives between Government and private entities in furtherance of the development of an ecosystem of innovation and the exertion of an approach in business and operations based on research, development and deployment of the latest technology and communication advancements in the world to embrace the best scientific innovations in the various sectors, including education, health services, information and digital data security, which will contribute to enhancing Abu Dhabi as a global hub for technological innovation."
Dr. Saleh Al Hashemi said: "This is a milestone partnership, and one which is as far-reaching significantly as it is strategically. Our strategy is based on developing innovative technology solutions based on advanced platforms and systems that can be used in different regions of the world and in line with the requirements of the global business sector, which is witnessing steady growth rates that meet the needs of both companies and individuals".
He added: "Our main objective at Algorythma is to strengthen the UAE's position on the technology and innovation map by creating an attractive environment for entrepreneurs, innovative ideas and solutions, and providing financial support to transform these ideas into innovative products and solutions on the global market from Abu Dhabi. As a national technology and innovation company, we are honored to pursue and develop wider collaboration with our major local and Government technology entities in the UAE such as the Smart Solutions & Services Authority. It is a great privilege to build collaboration with SSSA, and this landmark MoU opens new doors for further collaboration between our two entities."
Home
>>
Technology Section