Home
>>
Government, Legal & Humanity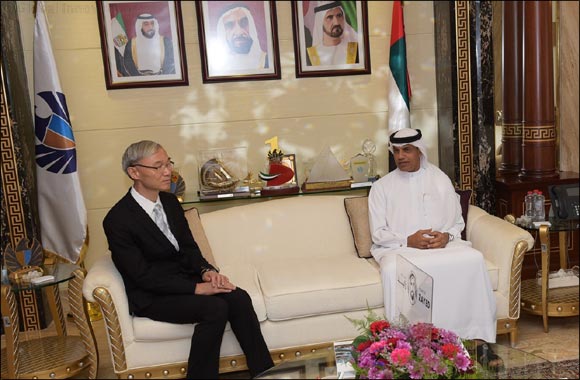 Director of Dubai Customs discusses fostering business with South Korean Consul General
Dubai, UAE, July 07, 2018: His Excellency Ahmed Mahboob Musabih, Director of Dubai Customs received in his office His Excllency Jion Yung Wok, newly appointed South Korean Consul General. The meeting was attended by of Edris Behzad, Director of Client Management Department and Khalil Saqer bin Gharib, Director of Corporate Communication Department. Musabih and Wok discussed the best means of cooperation to promote mutual trade.
Musabih reaffirmed the importance of enhancing cooperation with the South Korean diplomatic mission, business council and Korean companies.
Dubai non-oil external trade with South Korea grew 8.4% in 2017 compared to 2016 to touch AED 27.43 billion. The value of imports reached AED 22.1 billion, while exports and re-exports amounted to AED 4.47 billion and AED 886 million respectively.
Muabih pointed out that Dubai Customs places great importance to promote ties with Dubai trade partners through provision of best customs facilities, services and products.
He added:" Enhancing trade ties with our partners will help them receive the best customs facilities, which will add great value to their business. There are many Korean companies in the UAE, and we work closely with them to keep them involved in developmental efforts and to help them have easy access to our products and services. We keep our channels of communication with the South Korean firms open. We also have effective communication with the South Korean diplomatic missions and the Indian Business Council through our program (Irtibat) which was launched by Dubai Customs to promote two-way communication with business councils and diplomatic missions in Dubai. This helps in making our partners and clients happier following the directives of His Highness Sheikh Mohammed bin Rashid Al Maktoum, Vice President and Prime Minister and Ruler of Dubai".
Musabih pointed out that business relations with South Korea is gaining more importance, and that it was the first country to sign the AEO (Authorized Economic Operator) mutual recognition agreement with the UAE.
On his part, HE Jion Yung Wok, South Korean Consul General applauded Dubai Customs' efforts in supporting national economy and developing tourism and trade, stating that Dubai Customs is a world class customs department that has a very advanced system which plays a major role in supporting trade and protecting society.
Home
>>
Government, Legal & Humanity Section