Home
>>
Government, Legal & Humanity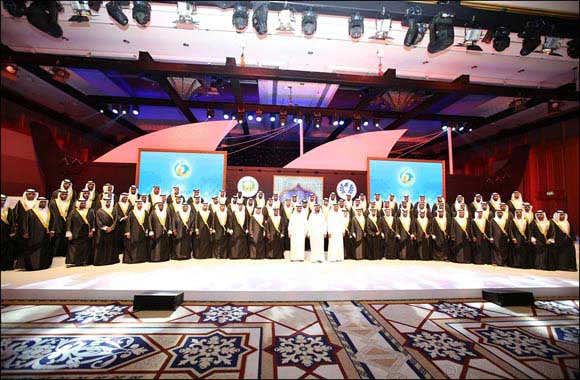 PCFC and GDRFA helped 511 employees tie the knot over last 7 years
Dubai, UAE, July 14, 2018: Ports, Customs and Free Zone Corporation (PCFC) reinforced its continual efforts towards more social cohesion through the mass wedding initiative which it has organized consecutively for the last seven years.
It is part of PCFC's efforts to promote happiness, and to help families and couples with the wedding expenses and the start of their lives. The initiative, which is held in partnership with the General Directorate of Residency and Foreigners Affairs in Dubai (GDRFA) has seen increasing number of beneficiaries during the last seven years which involved 511 employees. The first mass wedding started in 2011 and involved 53 employees. In 2018, a total of 127 employees tied the knot in an impressive grand mass wedding. These mass weddings saw the birth of 137 babies so far.
There were also four mass weddings that targeted female employees and involved 6 government departments. The weddings from 2011 to 2018 involved 353 female employees.
Commenting on the initiative, Khalil Saqer bin Gharib, Director of Corporate Communication Department, Head of Mass Wedding Committee said:" This initiative reflects our efforts in helping families and supporting the community around us following the vision of the wise leadership of enhancing family and society stability. Mass weddings support the UAE's strategic plans including Dubai Plan 2021, and helps reduce cost for young people planning to get married".
Bin Gharib added:" This is part of our efforts at PCFC and Dubai Customs to help families achieve more stability and happiness. Happy families is a strategic objective, which follows the wise vision of His Highness Sheikh Mohammed bin Rashid Al Maktoum, Vice President and Prime Minister and Ruler of Dubai in building stronger and more stable UAE families by supporting young people who plan to get married".
Bin Gharib pointed out the mass wedding committee made a number of field visits to other government partners to learn about their experience in this field. These included Emirates NBD, DEWA, and Dubai Health Authority. The committee also held meetings with strategic partners including Dubai Customs, GDRFA, RTA, Dubai Police, Dubai Municipality, DP World and Islamic Affairs and Charitable Activities Department.
Home
>>
Government, Legal & Humanity Section