Home
>>
Technology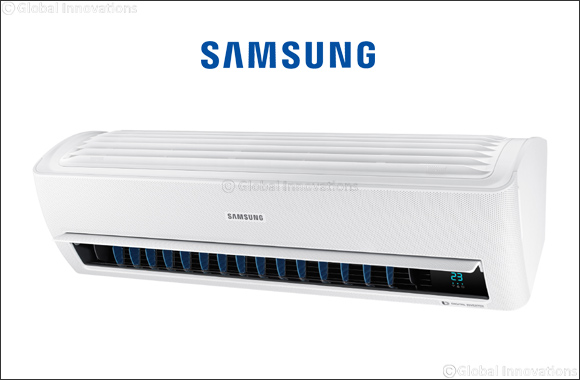 Ensure clean and pure air in your home this summer
Ensuring indoor air quality in your home is as simple as installing a Samsung Wind-Free™ Air Conditioner
Dubai, UAE, July 17, 2018: There are millions of micro-organisms living in your home, present in the air you breathe day in and day out, and with added dust, dander, pollen, and mold – collectively called allergens – the air quality in your home is being affected. Choosing the right air conditioning system is paramount to ensure your families continued health and happiness. Samsung's new Wind-Free™ split air conditioner uses a first-of-its-kind two-step cooling system, which ensures superior comfort along with faster cooling and energy efficiency for your home.
Many factors affect indoor air quality, poor ventilation is a key factor, primarily from the lack of fresh air, especially in the sweltering summer months experienced across the region. In addition to this, inefficient temperature control, high or low humidity levels and contaminants from dust can all lead to illnesses of the eyes, nose and throat, headaches and poor concentration. Choosing Samsung's Wind-Free™ split air conditioner for your home will reduce the number of allergens in the air, thus dramatically improving your quality of life.
A PM2.5 Filter keeps the air clean by capturing 99% of ultrafine dust in 100 minutes*. It also covers 100% of the air inlet, so it completely filters all of the air coming in. This means that the air you breath is pure and healthy. The Easy Filter captures dust, dangerous contaminants and allergens, and it is simple to keep clean thereafter. Furthermore, the Ionizer reduces certain harmful viruses and bacteria by up to 99%. And at nighttime, Good Sleep mode with Wind-Free Cooling creates the ideal climate for a good night's sleep – without cold air flow. Its temperature control with Wind-Free cooling helps you fall asleep fast, sleep deeply, and wake refreshed.
Equipped with the Triple Inverter compressor powered by Digital Inverter 8-pole technology, the Wind-Free™ split air conditioner can cool up to 63% faster than conventional Samsung split ACs. The 2-Step Cooling mode cools the air fast in Fast Cooling mode, then automatically changes to Wind-Free mode to maintain the temperature. This gently disperses cold air through 21,000 micro air holes to maintain a comfortable environment without the discomfort of direct airflow on your skin. So you stay comfortable, without cold spots, and don't need to change settings.
Moreover, this two-step cooling system is not only great for your family's health, it's also designed to reduce energy consumption by up to 72 percent, so the investment is simultaneously lighter on your pocket and better for the environment. It is Wi-Fi enabled, allowing users to manage and monitor the appliance from anywhere through Samsung's Smart Home app.
This summer, don't suffer the heat, the cold or the dust and allergens in your home, instead invest in an air conditioning system that will improve life for you and your family, and safeguard your health through the seasons for years to come.
Home
>>
Technology Section