Home
>>
Lifestyle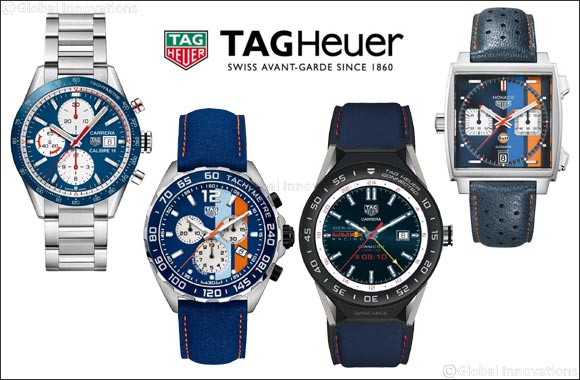 Celebrate Eid Al-Adha with TAG Heuer's Timeless Watches
Dubai, UAE: July 25, 2018: Give your loved ones a perfect TAG Heuer timepiece this Eid Al-Adha that quenches all their desires and easily moulds into their personality through a selection of eight different watches for him and her. The TAG Heuer Monaco, Formula 1 and Carrera collections have always maintained a tight link to the rich heritage of TAG Heuer. Ladies are in for a surprise this Eid al-Adha as the TAG Heuer Formula 1 has added new bespoke features that truly highlight one's uniqueness TAG Heuer Link Lady, the most feminine of all its watches, and the sophisticated yet sporty TAG Heuer Carrera Lady are here to shine with you.
TAG Heuer For Him
TAG Heuer Monaco Calibre 11 Gulf Special Edition - CAW211R.FC6401
TAG Heuer Monaco isthe first square and water-resistant automatic chronograph in the history of Swiss watchmaking. The watch was a break with the aesthetic codes of traditional watchmaking. However, the origins of the revolution lay inside the watch: The famous Calibre 11 that was the first automatic chronograph movement tobe commercialised in the history of watchmaking.
TAG Heuer and the Gulf's most notable interaction was in 1971, in the film 'Le Mans', when Steve McQueen wore the Heuer Monaco while driving a Gulf-Porsche 917K that featured the Gulf logo. TAG Heuer incorporated the Gulf racing colours within this timepiece with light blue and orange stripes meticulously layered within the dial and an exquisite petroleum blue leather strap with orange topstitching. With its 39 mm size, crown on the left, legendary petroleum blue dial with two white counters, diamond-polished horizontal hour indices, inscribed vintage Heuer logo, and Calibre 11 automatic chronograph with date and water-resistance to 100 metres, the Monaco Gulf has all the attributes of the classic Monaco, enhanced for the modern enthusiast.
An incredible gift for the heritage-loving man in your life, the TAG Heuer Monaco Calibre 11 Gulf Special Edition is not only a vintage collector's item but also the perfect gift this Eid, a watch thatwill never go out of style.
The TAG Heuer Formula 1 Collection - CAZ101N.FC8243
TAG Heuer's Formula 1 Collection was designed for a high-speed life on and off the racetrack and inspired by the extreme performances of team's part of the Formula 1. Choose the Formula 1 with Black Opalin dial for a suave and sophisticated look, or the Formula 1 with Blue Sunray Brushed dial for a classic look and a contemporary feel.
There is an indefinable power that comes with a TAG Heuer watch with its Swiss heritage, passion and the precision engineering. It is tough enough for the pros, but comfortable enough for everyday use and has been tested under the most intense conditions on the Formula 1 racetracks which ensures that they Don't Crack Under Pressure.
This chronograph was designed for a life in motion. It's strong enough to survive even the most dangerous racetracks and masculine and trendy enough to make sure you stay on top of your game, making it the ideal gift for the racer in your life this Eid al-Adha.
TAG Heuer Carrera Calibre 16 Chronograph - CV201AR.BA0715
Several legendary drivers have chosen to wear a Heuer Carrera chronograph during their career. TAG Heuer Carrera Calibre 16 Chronograph is vintage-inspired and highlights the automotive heritage. Featuring a 41mm diameter: a black version with a black leather strap and a blue version with a steel bracelet, the watch is toppled with touches of red. The colours, contrasts and position of the counters are all clear references to motor sport.
The two sporty models with a vintage signature produced by the three white counters, which stand out starkly against a dial featuring a white flange with a 60-second scale. The seconds counter is at 9 o'clock, the minute counter at 12 o'clock and the hour counter at 6 o'clock. The bezel is made from ceramic and features a tachometer scale –a crucial component on an automotive chronograph. Quench the need for speed this Eid al-Adha with the TAG Heuer Carrera Calibre 16 Chronograph.
TAG Heuer Connected Modular 45 Aston Martin Red Bull Racing Special Edition - SBF8A8028.11EB0147
Give him a gift he truly deserves this Eid al-Adha with the newly released TAG Heuer Connected Modular 45 Aston Martin Red Bull Racing Special Edition, symbolizing the eternal bond that Doesn't Crack Under Pressure. This is the first TAG Heuer Connected Modular bearing the colours of the inspirational Formula One Team, for a truly sporty look that will delight F1 fans.
A special dial has been created for this edition, with a GMT function, you are just a few clicks away from looking innovative and then antique, a watch that accustoms to your ever-changing mood. The watch features an original concept which is brand new in the field of connected watches: the connected module is interchangeable with an Haute Horlogerie mechanical module- 3 hands, chronograph or chronograph tourbillon COSC certified - offering a vast choice of materials, colours and combinations: the concept of modularity also applies to the lugs, strap, buckle.
This genuine Swiss luxury watch engineered in collaboration with Intel has access to GPS, is water-resistant to 50 meters, features an NFC sensor for payments and can be connected to Google's Android Wear 4.4+ or iOS 9+. With its bold 45 mm diameter, the connected watch bears the team's colours, midnight blue and red, a combination which naturally suggests a racing spirit. Your loved one will always be just a few clicks away from you, #ConnectedToEternity.
TAG Heuer For Her TAG Heuer Formula 1 Lady - WBJ1316.BA0666 & WBJ1312.BA0666
A feminine watch that embodies the meeting of sport and lifestyle. This glamorous model is designed for women who love to live at their own pace. The perfect marriage of fashion and functionality.
A new shape, new materials, new dials, new straps... a real breath of fresh air for this iconic women's collection from TAG Heuer. Each detail of the watch now bears the hallmarks of the TAG Heuer Formula 1 series and has been reworked to give the piece elegance and feminine curves.
The main new feature of this model is the interchangeable strap which switches the watch from a sporty look to a classic one in a snap. Available in brown, blue, white, red or black leather, or in metal, the watch also creates an interplay of colours with its new double-plate system on the dial. Thanks to its quartz movement, the TAG Heuer Formula 1 Lady is now aligned with the men's models so this Eid you can match your watch with your loved one. Surprise her this Eid al-Adha with a watch that has a casual, yet stylish look appreciated by today's busy woman.
TAG Heuer Carrera Lady - WAR1112.BA0601
The TAG Heuer Carrera Lady takes its inspiration from the world of sport is the perfect gift for women this Eid al-Adha. Models in this collection are sporty, iconic classics, featuring their characteristic faceted lugs and clear, highly legible dial. The new 39 mm Carrera is part of this collection and features its signature codes with a beautiful deep blue dial. For a feminine touch, and to add an edge to the look, the appliques and hands are rose gold-plated. The TAG Heuer Carrera for AED 8,190 stands out as a stylish yet understated chronograph
.
The watch exemplifies character and personality while highlighting this season's on-trend blue and available with diamond markers on the dial, combining a chic and feminine sporty look. Part of Eid may be about the filling and extravagant family dinners but even so there is still room for
a sportive look with the TAG Heuer Carrera for her.
TAG Heuer Link Lady - WBC1318.BA0600
Compliment her elegance this Eid al-Adha dinner with the TAG Heuer Link Lady featuring the famous signature bracelet with S-shaped links and outgoing colours for the first time ever. Combining comfort, and elegance into one, the TAG Heuer Link Lady iswell-suited to bring out
your feminine side.
In steel, with an elegant diameter of 32 mm, the new Link Lady now features a bracelet which is fully integrated into the case, whose horns have been removed. The bracelet's sophisticated finish radiates a highly polished shine, while the upper surface of each link is fully brushed. A choice of a navy-blue sunray finish or pink mother ofpearl brings the dial to life and truly highlights the beholders personality. The case shape lies between round and coussin, thanks to its 4 subtle corners. The fixed bezel is a bold presence, with a large polished bevel and an offset ring that may be either satin finished or set with diamonds. Elegant, refined and instantly recognisable, this is the most feminine watch of all the TAG Heuer collections which can beautifully and smoothly slide on her wrist this Eid al-Adha for AED 9,660.
Home
>>
Lifestyle Section