Home
>>
Government, Legal & Humanity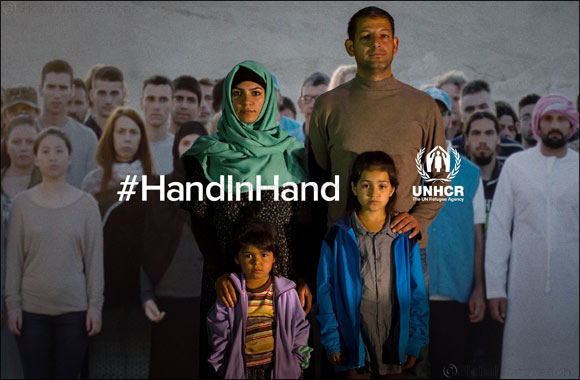 Y&R supports UNHCR with #HandInHand campaign to draw vital donations for refugees
The #HandInHand campaign raised awareness of the refugee cause as well as important funds for more than 800 Syrian and 1500 Rohingya refugee families
Dubai, United Arab Emirates (July 25, 2018) - Y&R Dubai was proud to offer their helping hand to UNHCR's Ramadan campaign – coined as #HandInHand #nusalnus – which sought to raise awareness around the pressing needs of refugee families, particularly women and children, for vital support and cash assistance.
Y&R's creative support to UNHCR, the UN Refugee Agency included coining the overall concept, which touched so many people and raised important awareness for the hardship and suffering of forcibly displaced families, particularly, Rohingya and Syrian refugees.
The agency's "manifesto" for UNHCR's campaign emphasized a powerful message of unity and urged the world to remember the plight of refugees this Ramadan…
"We are all human.
We may be miles apart.
Divided by borders and opinions.
But it's not difficult to understand that all a mother wants is the safety of shelter.
It's easy to understand that children will always dream of a better world.
Without pain and suffering, where every day they're free to play.
Rather than run away from the violence and fire…"
Several videos that were widely shared through social media conveyed the message, 'let's stand together, #HandinHand, and leave no one behind', and encouraged the viewer to take action for greater acceptance, understanding and support for refugees.
The UNHCR campaign netted over 7,600 generous donations from people across the world who connected with this message and were touched by the plight of refugees and forcibly displaced communities. The funds raised by UNHCR's campaign will provide families with vital support such as shelter, food, clean water and monthly cash assistance in the most difficult of times.
According to Georges Barsoum, CEO, Y&R MENA, "Ramadan, as a month of reflection and giving across the world, was the ideal time to launch this very worthy initiative which has relied on the effectiveness of social platforms to educate people about the plight of displaced people, of which there are 67 million globally. We can already see the impact that the overall campaign has had, with the support of over 7,600 generous donations. This has already helped to raise life-saving cash assistance for 800 Syrian families of widows and orphans across Jordan, Lebanon and the MENA region and emergency assistance to over 1500 Rohingya families, including providing shelter, clean water, cooking kits, and emergency medical support We are proud and humbled that our partnership with UNHCR has enabled us to educate people about this global crisis, and are really pleased that our contribution has had such a positive impact."
Home
>>
Government, Legal & Humanity Section