Home
>>
Education & Training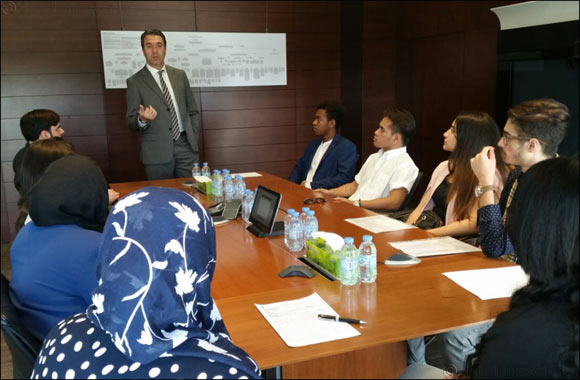 315 UAE Students Attend iCamp & Job Shadow Day Program Organised by INJAZ and Bank of America Merrill Lynch
Dubai, UAE, July 29, 2018: Students from four schools and two universities in the UAE participated in the Innovation Day Camp iCamp and Job Shadow Day program hosted by INJAZ UAE and longtime partner Bank of America Merrill Lynch (BAML). The Job Shadow Days are day-long workshops which allow students to explore various career options.
Students from Al Khaleej National School, Dubai National School, Al Ittihad Private School, International School of Arts & Science, American College of Dubai and Jumeirah University attended five iCamp workshops run by volunteers from BAML. The workshops introduced students to various aspects of entrepreneurship through practical activities overseen by corporate mentors. Mentors from BAML shared their experience with the students, giving them an opportunity to learn about professional skills required in the industry which also contribute towards greater economic competitiveness and growth.
Razan Bashiti, Acting CEO of INJAZ UAE commented: "This collaboration between INJAZ UAE and Bank of America Merrill Lynch is testament to the belief that both organizations have in future generations. By investing in the youth through our combined expertise, not only are we preparing them for their own economic independence, but also providing them with an understanding of the world of work and the spirit of entrepreneur-ship through the principle of learning by doing."
Arshad Ghafur, President, Middle East & North Africa for Bank of America Merrill Lynch, said: "At Bank of America Merrill Lynch, we are committed to tackling socio-economic mobility and creating ecosystems conducive to building future talent. We firmly believe that investing in students who aspire to be professionals in the corporate world is fundamental to future economic growth in the Middle East. Working with organizations such as INJAZ allows us to combine our employees' time with financial support and provide the knowledge and inspiration that will help young people transition from education into sustained employment – leading to greater personal success and a valuable contribution to their communities."
"The INJAZ workshop helped inform us about practical problem-solving skills necessary in the workplace and how best to provide constructive ideas within a competitive environment. We learned why teamwork is essential in a successful organisation as well as the importance of accepting and working with diverse ideas in a way that best serves the business", added Suleiman Naushad, a student from American College of Dubai.
Set up during the educational year 2017-2018, the iCamp & Job Shadow Day programs are part of a host of professional development programs offered by INJAZ UAE that aims to teach students a variety of skills needed for the workplace.
Home
>>
Education & Training Section