Home
>>
Entertainment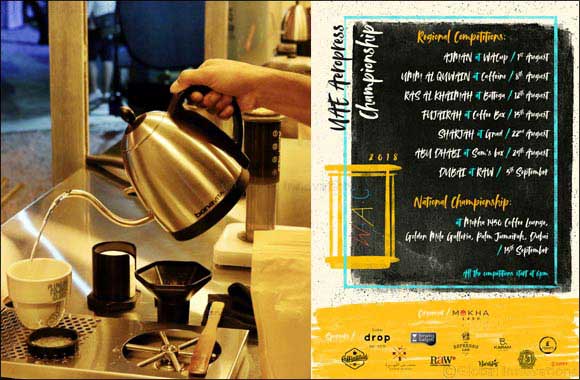 UAE Aeropress Championship Spans All Emirates for the First Time
Dubai, UAE, July 30, 2018: The 2018 UAE AeroPress Championship aims to bring the UAE coffee community closer than ever, with regional championships taking place in every Emirate for the first time.
Organised by Mokha 1450 Coffee Lounge, in conjunction with World AeroPress Championships and a wide range of sponsors, the 3rd annual UAE AeroPress Championship commences August 1st in Ajman, with regional competitions running across all Emirates until September 5th.
The final takes place on September 15th in Dubai.
The competition is open to all: professional world champion baristas, coffee enthusiasts, or anyone capable of brewing a cup of coffee using an AeroPress, water and coffee! The eventual winner will be crowned the official 2018 UAE Aeropress Champion and be flown, expenses paid, to compete in the World AeroPress Championships in Sydney in November this year.
COMPETITION DATES
Ajman, August 1st at WACup Coffee Hub
Umm Al Quwain, August 8th at Caffeine Espresso Bar
Ras Al Khaimah, August 12th at Bottega Café
Fujairah, August 15th at Coffee Box
Sharjah, August 22nd at Gnad Café
Abu Dhabi, August 29th at Sam's Box Café
Dubai, September 5th at RAW Coffee Company
FINAL: September 15th at Mokha 1450 Coffee Lounge
All competitions commence at 6pm sharp on the above dates. Competitors must in place and signed in, having paid the AED50 entry fee, by 3.30pm.
Registration to compete is via email to aeropressregistration@mokha1450.com stating the name of the preferred Emirate in the subject line.
27 competitors per Emirate. One Emirate per competitor. At the time of this press release, all Dubai and Abu Dhabi spots have been taken.

CEO of Mokha 1450, Garfield Kerr says "We are very excited to be organizing the third annual UAE AeroPress Championship. The biggest coffee competition the UAE has ever seen, this year's event spans all Emirates in the hopes of creating a stronger coffee community and the response so far has been overwhelming".

ABOUT THE COMPETITION

National AeroPress Coffee Championships run every year across the globe, with over 40 countries and almost a thousand competitors planning to participate in 2018.
The winners go on to represent their country in the World AeroPress Championships, taking place in November in Sydney, Australia.

The goal of the contest is threefold. First, it allows baristas an opportunity to practice and hone their skills prior to the competition, which makes them better baristas. Second, it provides baristas with a platform to parade their skills and measure their abilities against other baristas in a more relaxed manner than some of the other World Barista Championships - while still promoting the spirit and quality of Specialty Coffee.
Lastly, the contest provides an opportunity to educate as many people as possible about how a properly prepared cup of coffee can and should taste, as well as what it takes to get the coffee from the farm to the consumer's cup - the ultimate aim of any barista competition. The more information people have about the coffee they are drinking, the more aware they become about just how diverse the coffee industry is.

All competitors will use coffee that is provided by the sponsors making the contest a true test of skills that will produce the best barista through competition.

WHAT IS AEROPRESS

An Aeropress is an inexpensive gadget which that uses both infusion and pressure to extract the flavours naturally present inside the coffee beans. It is unique in that it offers baristas many different ways to brew coffee all yielding different flavour profiles from the same coffee. This diversity is what attracts baristas and drew Coffee Expert Tim Wendelboe to initiate the world's first Aerobie AeroPress Championships in 2003. The other famous invention by the same inventor is the Aerobie Flying Disk.

SPONSORS
Platinum: The Espresso Lab, Drop Café, Caffinated, Brewing Gadgets, RAW Coffee Company, The Coffee Museum, Mokha 1450 Coffee Lounge
Gold: Karam Coffee, Cascara UAE, Barista's Corner, SF Chocolate
Silver: Sippy App

Home
>>
Entertainment Section