Home
>>
Technology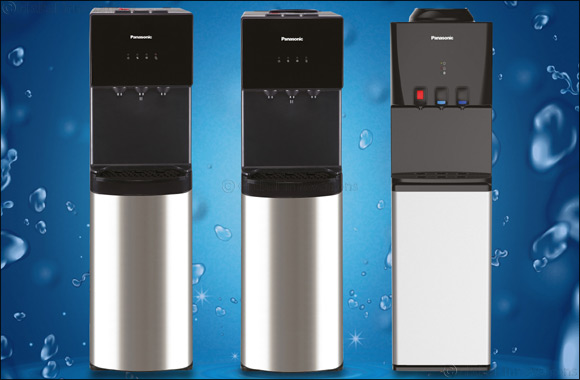 Panasonic's new water dispensers to add luxury to the modern Middle Eastern kitchens
Dubai, UAE, July 30, 2018: Panasonic to reinvent the contemporary Middle Eastern kitchens with the introduction of new water dispensers that combine cutting edge innovation with stylishly elegant look. Designed in statement-making black and metal finish, Panasonic's water dispensers break the monotony of the plain white plastic design of common water dispensers – a perfect way to achieve that touch of chic luxury without compromising on reliability and functionality.
The range includes two top loading water dispensers, SDM-WD3238TG and SDM-WD3128TG, and the bottom loading SDM-WD3438BG model. Ideal for both homes and offices, these appliances have been engineered with Panasonic's advanced technologies to deliver maximum reliability, optimum usability and top-notch level of safety. Among the key features are:
Hot, cold and normal water options – icy-cold, piping hot or room temperature water at your fingertips from a single fast-flowing spout
LED light indicators – for safe and easy water dispensing in low-light conditions
Stainless steel hot and cold-water reservoir – ideal for eliminating the 'plastic' water taste common with some water dispensers
Child safety lock for hot water dispensing – to prevent accidents from unsupervised access by the little ones
Double safety device – to prevent overheating
Anti-finger proof stainless steel cabinet doors – for a clean, polished look always
Mr. Keisuke Nakagawa – Director of Consumer Marketing Division, Panasonic, said, "Building on Panasonic's extensive and innovative history in home appliances, our water dispensers are specially-designed to meet the needs of our Middle Eastern customers who appreciate unique features that make a genuine difference. These appliances – while adhering to top Japanese quality standards – were also built with an upscale modern style, in line with our efforts of creating luxury home concepts accessible to almost everyone. We are confident to say that our water dispensers are great additions to Panasonic's popular range of premium home appliances that boast industry-leading technology."
All Panasonic water dispenser models are now available in Panasonic showrooms and major retailer outlets across the Middle East.
Key Features Per Model:
SDM-WD3438BG
SDM-WD3238TG
SDM-WD3238TG
• Water bottle position: Bottom Load
• Hot, Cold & Normal Water options
• Anti finger print stainless steel cabinet doors
• Overheat protection
• Child safety lock
• Stainless steel hot & cold water tanks
• Net weight: 15.5 kg
• Gross weight: 17.5 kg
• Unit dimension: 310 (W) x 360 (D) x 1040 (H) mm
• Frequency: 50/60 Hz
• Finish: Black & Stainless Steel

• Water bottle position: Top Load

• Hot, Cold & Normal Water options

• 20 Ltrs. Cabinet

• Anti finger print stainless steel cabinet doors

• Overheat protection

• Child safety lock

• Stainless steel hot & cold water tanks

• Net weight: 15.6 kg

• Gross weight: 17.6 kg

• Unit dimension: 310 (W) x 360 (D) x 1000 (H) mm

• Frequency: 50/60 Hz

• Finish: Black & Stainless Steel

• Water bottle position: Top Load

• Hot, Cold & Normal Water options

• Overheat protection

• Child safety lock

• Stainless steel hot & cold water tanks

• Net weight: 12.8 kg

• Gross weight: 14.8 kg

• Unit dimension: 310 (W) x 360(D) x 1005 (H) mm

• Frequency: 50/60 Hz

• Finish: Black & Silver
Home
>>
Technology Section