Home
>>
Lifestyle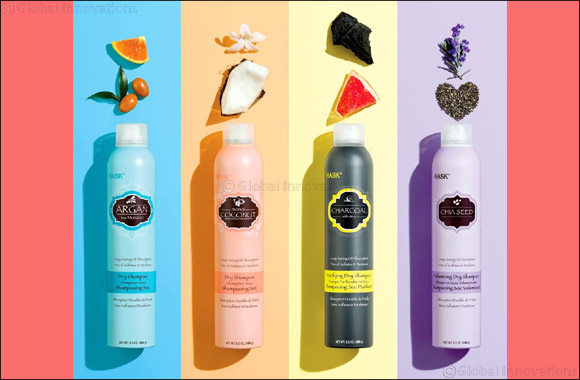 Instantly Refreshed Hair with HASK
A collection of dry shampoos to cleanse & revive
Dubai, UAE, August 06, 2018: With those early morning starts, long nights and all-around tight daily schedules, dry sham-poos have become quite the hair heroes. These instant cleansing sprays breathe new life into hair and help extend the life of blow-dries by absorbing excess oil and adding volume, without making hair feel stiff. In the middle of peak summer time in our region, dry shampoo is the ultimate modern-day savior to fight against limp, flat and oily hair while removing dirt & residue from dust and pollution.
Hask's collection of dry shampoos are lightweight and oil absorbing. They extend the life of hairstyles and leave hair feeling fresh and clean while neutralizing odor, boosting volume and adding texture.
Featuring only ingredients that are good for you, formulated without parabens or sulfates, the dry shampoos boast luxurious fragrances and offer salon style results with affordable prices.
The Hask dry shampoo range is available in 184 ml bottles (AED 30) and travel-sized 75 ml bottles (AED 16) with scents to suit everyone, including Monoi Coconut, Argan, Charcoal with Citrus and Chia Seed.
How to effectively use dry shampoo
1) Spray at a strategic position: Rather than spraying all over your head. The easiest way is to take a two-inch section of hair and spray at the underside of the roots without over saturating the hair with product. The Purifying Charcoal with Citrus dry shampoo by Hask consists of a fine starch formula to help soak up and allows for a smooth spray on the crown portion leaving hair feeling soft and fresh.
2) Use only on dry hair: Avoid using dry shampoo on wet hair as this can cause dampness and reduce freshness. The Argan Dry Shampoo by Hask can be used after a blow-dry to help provide volume, bounce and keep your hair clean too.
3) Give it time to absorb oil: Once sprayed, allow the dry shampoo to absorb the grease after massaging with your fingertips. The Hask Chia Seed Volumizing Dry Shampoo is enriched with chia seeds that allow to soak up any excess oils leaving your hair with weightless volume.
4) Use it after working out: The sweat that accumulates after a good workout affects our scalp, leaving it greasy. The sweat absorbing dry shampoo allows to soak up the oil helping your hair feeling revived giving it that fresh shower feeling.
Dry shampoos can always be included in your hair routine for an instant fresh look. Whether it's for after those sweat-filled spin classes or long hours at work, dry shampoos work won-ders to keep hair looking fresh and clean!
Home
>>
Lifestyle Section