Home
>>
Entertainment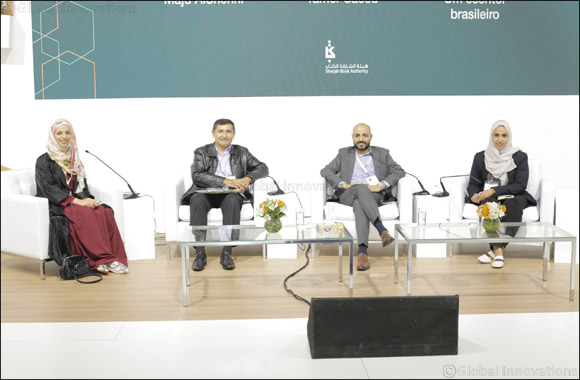 '1001 Titles' Highlights Role of Fiction in Emirati and Brazilian Literature
During its participation at São Paulo International Book Fair
Dubai, UAE, August 06, 2018: The unique Sharjah-based initiative to publish 1,001 first-edition Arabic books in two years, '1001 Titles' has participated in the 25th edition of São Paulo International Book Fair, as part of a big Sharjah delegation, which is currently in the bustling Brazilian metropolis to celebrate the emirate's selection as the book fair's first guest of honour.
As part of its presence, '1001 Titles' organised a panel discussion yesterday (Sunday) titled 'Fiction Stories in UAE and Brazil'. Featuring Majd Al Shehhi, Manager of '1001 Titles'; Tamer Saeed, Managing Director of the Kalimat Group; Antonio Ervan, from the Brazilian Cortiz Publishing House, the session shed light on the history and importance of folk tales, their universality and popularity in oral tradition, and its capacity to facilitate
cross-cultural communication, bringing the social, cultural and economic reality of a country to fore.
Al Shehhi said: "Our participation in Sao Paulo International Book Fair is part of our efforts to ensure that the UAE is strongly represented at important international cultural events. We are here to learn more about Brazilian and other civilisations and their intellectual experiences, as well as to showcase Sharjah's unique cultural expertise and explore opportunities for cooperation with entities specialised in publishing and literature."
She briefed the audience about '1001 Titles' initiative and its efforts to enrich the cultural landscape in the UAE in line with Sharjah's strategy to promote a love of reading as a way to improve people's quality of life. She highlighted that reading and knowledge are playing a key role in driving the development of all other sectors, and pointed out that the second phase of the initiative with a budget of AED 5 million aims to publish another 1001 Emirati first edition titles in 2018–19.
She added: "We believe that fiction has always been a means of instilling moral values in individuals and promoting good behaviour. We see it as a universal message shared by all human-beings. Fiction today is an important medium to discuss and present contemporary issues, and thus, we support this genre of literary works and encourage writers to tap into their imaginations and experiences to weave narratives that will serve the common good of people."
Tamer Saeed said: 'The beauty of fictional works is seen in the way its strings together common customs and universal beliefs while reflecting the social and cultural reality of a specific society. Over the years, fictional works have become very popular and attracted a larger audience worldwide; be it those writing it or reading it. Fiction portrays the most elevated form of human imagination; and has global appeal. Therefore, a Brazilian writer can speak to the Arab audience through folk tales and fictional stories, avoiding the challenges of realism and cultural context of their creative expertise."
Saeed added: "Fictional works like Moby-Dick, Don Quixote, Kalila and Dimna and Sindbad, are known by everybody in the world. Tales of ghouls are very similar in different cultures; this means that imagination is a common space that is available to all."
For his part, Antonio Ervan, said: "The UAE is a global example in the way it supports exchanges between Arab culture and the world. I am delighted to be one of the Brazilian publishers who will benefit from programs launched by the '1001 Titles' initiative, and the efforts of the Emirates Publishers Association towards bolstering copyright and translation laws and regulations."
Ervan revealed that he was very much interested in sharing his company's successful experiences in publishing Arabic works with other publishers in Brazil, and said that part of his forthcoming project is to purchase Arabic titles from Arab publishers and sell them to libraries and bookstores in Brazil. He also noted that he will be selecting a few of the most prominent Portuguese to translate them into Arabic to meet the aspirations of Arabic language readers in Brazil. .
Themed 'Nurturing Talent to Enrich Content', '1001 Titles' was launched in February 2016. The first phase of the initiative aimed to publish 1001 Emirati books, and enhance the intellectual product in the UAE while ensuring the sustainability of the publishing industry in the country and beyond.
The second phase of the initiative seeks to publish another 1,001 Emirati first-edition titles in the next two years by supporting 700 titles by EPA members and 301 titles by Emirati authors. Emirati authors are encouraged to apply directly to the initiative's management. Applications from UAE-based local and Arab publishers are also welcomed.
Home
>>
Entertainment Section