Home
>>
Entertainment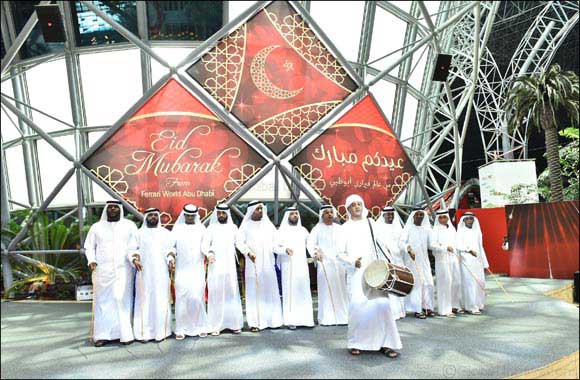 Ferrari World Abu Dhabi gears up for spectacular Eid Al-Adha celebrations
Award-winning theme park rolls out a 5-day calendar of festivities, featuring the park's first ever culinary celebration, diverse cultural entertainment and thrilling rollercoaster fun for the entire family
Abu Dhabi, United Arab Emirates, 8 August 2018: Ferrari World Abu Dhabi, the region's leading theme park in the heart of Yas Island, is set to roll out an exciting line-up of culturally-inspired entertainment, and the first-ever fusion food concept to mark the Eid Al-Adha celebrations taking place at the park from August 22-26, 2018.
The family festivities will complement the guest experience at Ferrari World Abu Dhabi, which combines thrilling rides and attractions such as record-breaking rollercoasters and adventures, to present an unforgettable day at the park.
Taking place from August 23-25, a variety of international cuisines and home-grown food concepts are set to offer delectable dining options, all served up by participating restaurants on a backdrop of live music. On August 23, guests can experience the thrill of competition as the Black Box Chef Competition kicks off at 2.00pm, presenting a live cook-off between Yas Island's celebrated chefs. Audiences can be assured of a riveting display of culinary showmanship designed to electrify the atmosphere in the same spirit as the park's rides.
Guests are also invited to participate in a range of activities including storytelling sessions inspired by the UAE's heritage, creatively supported by live theatre, traditional Ayyala performances and an art and crafts station for the park's youngest visitors. Celebrating the Year of Zayed, a one-of-a-kind 'Cultural Maze' will display iconic and rare photographs of the late Sheikh Zayed's legacy that also offer snapshots into the UAE's history.
Commenting on this year's upcoming celebrations, Jesse Vargas, General Manager of Ferrari World Abu Dhabi said: "We can all agree, great food is at the center of everyone's festivities during Eid Al-Adha holidays. This year, Ferrari World Abu Dhabi aims to bring friends and family together in an atmosphere that offers the best of live entertainment, rollercoaster thrills and gastronomy."
"Our Eid-Al-Adha celebrations combine elements of Arabic culture and hospitality, with the style and flair of brand Ferrari, presenting an unforgettable experience for our guests from within UAE and around the world. Our action-packed program of festivities will certainly leave guests with unique memories of this special holiday," he added.
For those keen on taking home their very own Ferrari-branded merchandise and memorabilia, a mega-sale at the entrance tunnel into the park as well as inside the largest Ferrari retail space in the world is sure to offer exceptional retail therapy.
The park opens from 11.00am - 8.00pm on August 22, with extended hours from 11.00am - 10:00pm on August 23 – 24.
With the AED310 general admission ticket, guests will also double their chances of winning the AED100,000 weekly Treasure on Yas draw.
Home
>>
Entertainment Section