Home
>>
Education & Training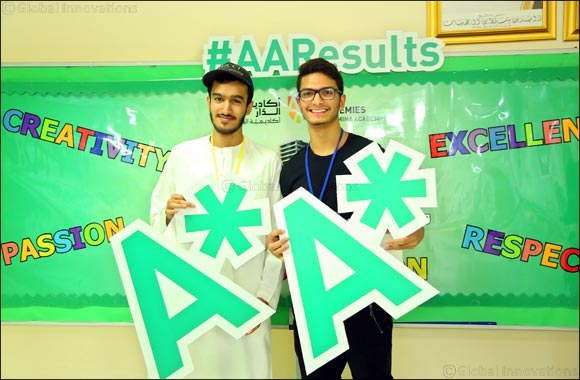 Aldar Academies' IGCSE students celebrate exceptional pass grades
98% of the organisation's 188 IGCSE students achieved all A* to C grades or equivalent
Dubai, UAE, August 23, 2018: Aldar Academies, one of the UAE's leading providers of private education, recorded exceptional IGCSE grades today as 98% of the organisation's 188 IGCSE students achieved all A* to C grades. Students from three of the organisation's seven private academies received their results, and also smashed the 2017 English national average GCSE grades.
A number of examinations were sat under the new 9-1 grading structure, which has been implemented to reflect a move towards more challenging IGCSE examinations. A* to A grades are equivalent to grades 9 to 7 in the new structure, with grades 9 to 4 equivalent to A* to C.
Aldar Academies Al Yasmina Academy recorded 92% A*, A grades or equivalent among all exams sat by its 79 IGCSE students, while 100% earned all A* to C grades or equivalent. The academy also recorded 96% A* to C in English and 91% A* to C in Mathematics, as well as a 100% pass rate overall.
Its highest achieving students were:
Hana Ephremidze, 10A* (Georgia)
Omar Mutaz Ahmad Zeidan 9A* 2A (Jordan)
Tayyeb Sabir Ali, 7A* 3A (Pakistan)
Amr Basem Al-Khawaldeh, 7A* 3A (Australia)
The academy's highest scoring Emirati student was Ahmed Abdulla Matouq Abdulla Alhosani with 6A* 4A and 1B.
"I was really nervous opening the envelope but it was a relief when I finally did," commented Ahmed Abdulla Matouq Abdulla Alhosani, who intends to study economics and politics at the London School of economics. "I am so proud of myself because I studied hard and put in extra hours of work at home and at school. We have great community of teachers at Al Yasmina Academy, who encouraged me from the beginning to help me succeed."
"Today's IGCSE results cap a marvellous year for Al Yasmina Academy, where we've also earned an "outstanding" rating from British Schools Overseas (BSOs) and a Gold award from Investors in People." Commented Dr Tim Hughes, Al Yasmina Academy Principal. "It is also wonderful to see that 95% of our students achieved grades 9 – 4 in the new GCSE grading system", he added, "with 72% of these being at the very highest grades of 9 – 7".
"These achievements show that our academy community – which is built upon collaboration, innovation, and meeting the highest academic standards – is stronger than it's ever been. A huge congratulations must go to all of our students and teaching staff following their immense efforts". Added Dr Hughes.
Among Aldar Academies Al Bateen Academy's 90 pupils, 90% of all grades were A*, A or equivalent, with 99% of the cohort earning all A* to C grades or equivalent. 94% of students achieved an A* to C grade in English, with 85% earning an A* to C grade in Mathematics. The academy reported a 100% pass rate overall.
Its highest achievers were:
Farah Abo Asali 10A* 1A (Syria)
Hager El Kasabi 9A* 3A (Egypt)
Jawad Abdulwahab 9A* 2A (Syria)
Riad Al Asadi 9A* 2A (USA)
Maria Khakimova 8A* 3A (Russia)
The academy's highest scoring Emirati was Shaikha Al Nasri with 4A* 4A and 2B.
"I'm speechless. It's been a long year of hard work, but hard work with a well earned end," commented Farah Abo Asali, who plans to study Biochemistry or Genetic Engineering at the University of Toronto. "I pushed myself so hard to get the results I wanted, and had my teachers supporting me just as much to get the results they knew we deserved." She added.
"Having already achieved excellent International Baccalaureate Diploma Programme examination results in July, we're immensely proud of this year's IGCSE students," commented Mr. David Hutson, Al Bateen Academy Principal. "We've created a supportive, creative and collaborative learning environment where students are able to thrive as learners. Congratulations to students and best wishes as you commence your IB Diploma studies this year."
Aldar Academies Al Ain Academy, which this year celebrated its second ever IGCSE cohort, saw 42% of all grades at A*, A, or equivalent, with 76% of the academy's 19 students gaining all A* to C grades or equivalent. 100% earned an A* to C in English, 74% achieved an A* to C in Mathematics, and the academy recorded a 93% pass rate overall.
The academy's top performers were:
Bushra Kurban, 8A* 2A and 1B (United Kingdom)
Bashir Saddig, 8A*, 1A and 1B (United Kingdom)
Maria Benhammouda, 7A*, 3A (Algeria)
Arwa Azribi, 6A*, 1A and 1B (United Kingdom)
"I was 35% nervous, 65% excited before I opened my results, but I'm so pleased with what I've achieved," commented Maria Benhammouda, who aspires to study a degree in nutrition or dietetics. "The support of my peers was important because we were a small group, so we worked as a team and shared resources to help each other." She added.
"As the bridge to the post-16 years, IGCSE exam results provide an important marker of a students' academic progress and excellence." Commented Nilay Özral, Aldar Academies' CEO. "This years' exceptional results show that our students continue to perform at the highest level, as they forge their own path towards the best universities in the world." Added Ms Özral.
Home
>>
Education & Training Section