Home
>>
Automobile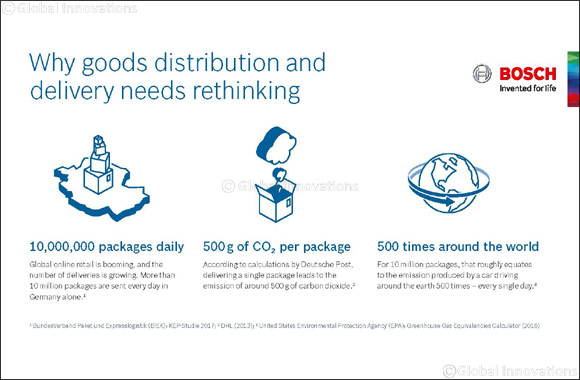 Vans Featuring Bosch's Newest Electric Powertrain to Roll Out in 2019
Bosch solution makes electrical powertrains for delivery vehicles cheaper and more efficient.
Huge market potential: UAE's light commercial vehicle market set to grow by 8.25 per cent by 2022.
Dubai, UAE, August 27, 2018: Bosch is launching eCityTruck, an electrical powertrain suitable for the vast majority of delivery vehicles. The first vehicles to feature the new electric powertrain will be launched in Germany in 2019.
The eCityTruck powertrain will equip electric vans that especially handle last-mile deliveries from distribution centers to recipients. The kind of stop-and-go traffic that often take place within ecommerce deliveries is an area where electric vehicles are particularly efficient, because they can recuperate the energy from constant braking, which increases their range. Most delivery routes amount to less than 80 kilometers a day – a distance easily covered on a single battery charge. Fleets can then be recharged overnight at the depot.
"To keep pace with goods supply in cities, there's no avoiding a rethink of delivery traffic. Bosch's electrical powertrain for commercial vehicles has the potential to change the face of urban delivery traffic. We're getting electric vans ready for the mass market," says Dr. Markus Heyn, member of the board of management of Robert Bosch GmbH.
Ready for the mass market
There are two versions of Bosch's eCityTruck powertrain: one with a transmission and one without. The goal is to create solutions that are quick to integrate and accommodate automakers' differing requirements. These powertrain solutions can be scaled for light commercial vehicles weighing two to 7.5 metric tons, making them suitable for a large section of the commercial vehicle market.
Bosch already offers an all-in-one solution for passenger cars – the e-axle – which significantly shortens vehicle development times. With its new eCityTruck powertrain concept, Bosch has taken multiple components such as an electric motor and power electronics and combined them into one unit. This economizes on parts, making the powertrain not only far more efficient, but more affordable as well. Thanks to the easily integrated solution, customers no longer have the time-consuming task of developing new components. One further advantage for automakers, both established names and new players, is that the Bosch solution lets them bring vehicles to market quickly. According to a report by Research and Markets, the market for light commercial vehicles in the UAE is set to grow by 8.25 per cent by the year 2022, which can be attributed to a rise in infrastructure projects across the country, as well as growing logistics and tourism sectors.
Bosch's plans for the electrification of commercial vehicles go beyond vans. Together with the Nikola Motor Company, a U.S. start-up, Bosch is developing a powertrain that raises the bar for electric range.
For Bosch, these powertrain technologies for delivery traffic are another milestone on the path toward achieving a leading global position in the electromobility mass market set to emerge after 2020, and toward making its vision of emissions-free, accident-free, and stress-free mobility a reality.
The future of mobility at Bosch is automated, connected, and electrified. By expanding its product portfolio to include light commercial vehicles, Bosch is supporting not only automakers with their electrification strategies but with it the wider economy. The new powertrain would support wider adoption in the logistics and service sector across the world towards adopting greener transport solutions.
UAE e-commerce will hit $10 billion by 2018 according to market research firm Frost & Sullivan. The UAE's Supreme Council of Energy issued directive Number 01 of 2016 that government institutions must ensure that 10 per cent of all new purchases of fleet vehicles are of hybrid or electric vehicles. This will support the UAE's target for two per cent of all vehicles to be hybrid or electric by the year 2020, and 10 per cent by 2030. In turn, this will help to reduce total carbon emissions in Dubai by 19 per cent by 2021.
Home
>>
Automobile Section