Home
>>
Education & Training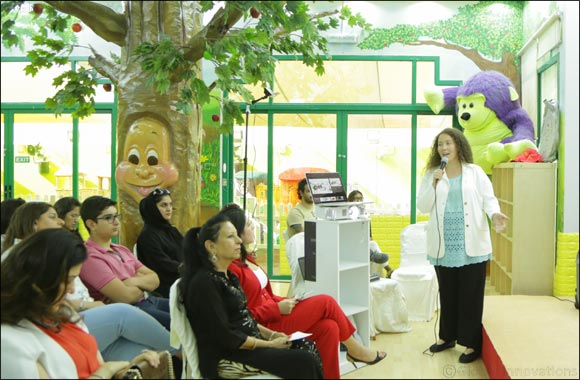 Pre-school commits to raising resilient children
In a first of its kind series, British Orchard Nursery endeavours to help parents who are constantly struggling with the daunting task of raising children in the most appropriate manner
Organises a Talk Series to educate parents raise children who can work against all odds to achieve the best for themselves and the society at large
September 24, 2018; Dubai UAE: Addressing the challenges of raising a child in today's competitive world, British Orchard Nursery invited parents for an interactive session on how to raise a resilient child. The live talk show was the first of the many sessions that the pre-school plans to organise in order to find practical and workable solutions vis-à-vis child-development and to further strengthen the parent-child bond. Titled, "The Resilient Child", the first show of the series highlighted a number of concerns that parents face and discussed the critical role of caregivers and other support systems, tools to help children overcome challenges and various myths regarding resilience among children.
The talk ended with an informative and interactive question and answer which gave attendants the opportunity to voice their anxieties and apprehensions to child development expert.
"The biggest myth that need to be shattered is that resilience is something you're born with," explained Chasity O Connell, positive parenting expert and psychologist who conducted the session, "Any child, when exposed to the right environment, a proper routine, an encouraging behaviour, not to forget proper physical and mental health and well-being will learn to succeed despite all odds, and to bounce back in the face of adversity – which is what resilience is all about. Parents, on their part, need to ensure that their child is surrounded by the feeling of love, security and respect and to nurture and develop a basic human rights system for them to grow."
At the same time Chasity warned parents against over-indulgence. "We need to let go of this anxiety to provide the best of the resources; our children do not need every single advantage," she warned.
Dr Vandana Gandhi, CEO and Founder of British Orchard Nursery, commented: "Being a parent in this day and age is just as challenging as growing up in today's world. This is why it's important that we provide parents with the right tools that will help them nurture a well-rounded individual. Being resilient and the will to conquer challenges is an important aspect of a child's personality, and a parent's contribution goes a long way in developing this trait. More of such issues will be discussed in The BON Talk Show which will be a regular feature at the British Orchard Nursery. Together in collaboration with experts we aim to highlight issues that concern many parents and can be resolved through practical advice".
The Talk Show was hosted by Ms Shivali Gandhi, British Orchard Nursery's marketing coordinator, who is a psychology graduate and post-graduate researcher.
British Orchard Nursery, the largest pre-school chain in the UAE, has been instrumental in highlighting child-development issues and educating parents with the ethos of going the extra mile to support them. The nursery has been a forerunner in conducting UK certified and KHDA approved training courses for teachers and parents alike across the UAE and is the first largest pre-school chain in the Middle East to be ISO 14001, 18001 and ISO 9001 quality certified.
Home
>>
Education & Training Section