Home
>>
Technology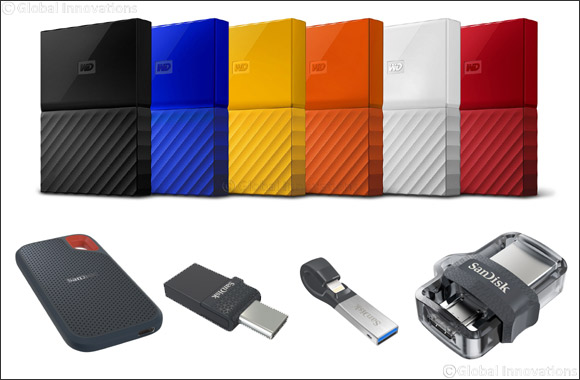 Western Digital Mobile Storage Solutions at GITEX Shopper 2018 Are Worth Their Weight in Gold
Dubai, UAE, October 03, 2018: With the unprecedented explosion of data, customers looking for reliable storage options to relieve the pressure on their mobile devices. Keeping in tune with the needs of the market, SanDisk, a WDC brand, brings to GITEX Shopper 2018 a range of mobile memory products that allow users to easily expand the space on their phones or offload files so they can preserve precious photos, videos and memories.
And what's more, when customers buy a SanDisk storage device of 64 GB to 256 GB capacity at GITEX Shopper, they stand a chance to win the exact same capacity weight in gold! So buying a 128 GB SanDisk product entitles the customer to enter a raffle draw to win 128 grams of gold.
SanDisk products are available at GITEX Shopper 2018 through key retail partners' including Sharaf DG, Emax, Jumbo Electronics, Jacky's and Axiom, and include a range of high-performance Mobile Storage Solutions:
SanDisk Extreme Portable SSD: Up to 2TB of high-speed storage, perfect for saving and editing high-res photos, videos and sound files. A rugged device that stands up to rain, splashes, spills and dust.
SanDisk iXpandTM Flash Drive: An easy way to free up space on your iPhone, the SanDisk iXpandTM Flash Drive automatically backs up your camera roll, and even lets you watch popular-format videos straight from the drive.
SanDiskTM Dual Drive Type-C - a reversible USB Type-C™ connector and a traditional USB connector that lets you quickly and easily transfer files between smartphones, tablets and computers.
SanDisk Ultra® Dual Drive M3.0 – a USB 3.0 connector that allows you to easily move content between your devices—from your Android™ smartphone or tablet to your laptop, PC or Mac due to a micro-USB connector on one end and a USB 3.0 connector on the other.
Western Digital My Passport – compact portable storage that fits in the palm of your hand. Keeps content secure through password protection with hardware encryption, all in cool colours and a durable build.
Home
>>
Technology Section