Home
>>
Entertainment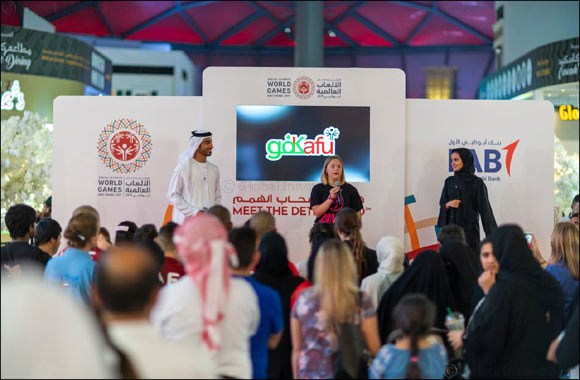 Special Olympics World Games Abu Dhabi 2019 Launches Volunteering Recruitment Drive
Dubai, UAE, October 06, 2018: A special volunteer registration event is being held this weekend at Yas Mall in Abu Dhabi to encourage UAE residents to participate in the world's biggest sports and humanitarian event of 2019.

Taking place from 14 – 21 March next year, Special Olympics World Games Abu Dhabi 2019 will require 20,000 volunteers to help host the event.

The event at Yas Mall featured meet-and-greets with Special Olympics UAE athletes, Unified Zumba sessions, and interactive games to find out more about the different volunteering roles available at the World Games next year.

Gymnast Alia Al Zaabi demonstrated her talent with a lively gymnastics performance met with cheers from the crowd.

Certified Zumba instructor Clari Lehmkul, who will compete for Special Olympics UAE in tennis at the World Games, led a Unified Zumba session accompanied by fellow Special Olympics athletes who took to the stage with her.

"This weekend is packed full of unified experiences that bring people together, giving a taste of what to expect at the World Games next year and a chance to celebrate the UAE's goal of integrating people of determination into everyday society," commented Ameera Al Muharrami, Volunteers Director at Special Olympics World Games Abu Dhabi 2019.

"We are delighted with the interest in volunteering that we've received so far as people gain an understanding of what it means to be part of an event like this. We have roles for people with a wide variety of skills, all you need to sign up is a positive attitude and a willingness to help."

The festivities on Friday concluded with performances from popular musicians Fayez al Saeed, Aryam and Hamad Al Ameri.

Volunteers must be at least 14-years old and commit to a minimum of four shifts during the Games. All volunteers will be required to attend 16-hours of training ahead of the Games and there will be opportunities for those with and without intellectual disabilities to get involved.

The volunteering recruitment launch event is presented with the support of First Abu Dhabi Bank (FAB), official banking partner of Special Olympics World Games Abu Dhabi 2019.
Home
>>
Entertainment Section