Home
>>
Technology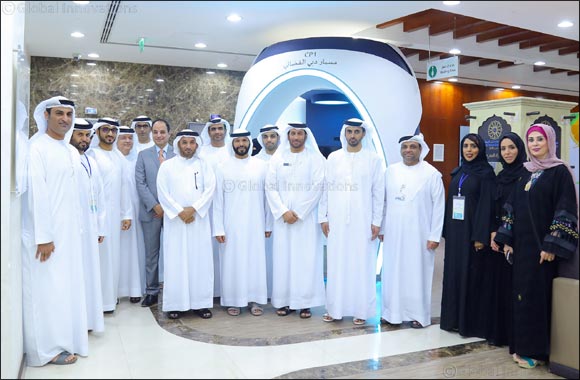 Rental Disputes Center inaugurates the 'Court Probe' in line with 'A Week Without Service Centres' initiative
RDC to support Smart Dubai's vision by recording a global trend in Dubai's real estate litigation technology
Dubai, United Arab Emirates, 23rd October 2018: The Rental Disputes Center (RDC) received the registration cases through 'Court Probe' – CP1, the first innovative concept of its kind in the world, and recorded a global trend in Dubai for presenting the latest technology to provide unprecedented services in the field of real estate litigation.
This step is in line with the 'A Week Without Service Centres' initiative launched by the Dubai Department of Finance to encourage customers to change the way they complete government transactions and switch to smart pay channels as part of the Dubai Paperless Strategy 2021.
HE Sultan Butti bin Mejren, Director General of Dubai Land Department (DLD), said: "We are pleased to support the 'A Week Without Service Centres' initiative — announced during GITEX Technology Week (GITEX) 2018 as the latest innovation in real estate litigation — by activating the court probe. This initiative helps us embody the vision of HH Sheikh Mohammed bin Rashid Al Maktoum, Vice President and Prime Minister of the UAE and Ruler of Dubai, by providing a unique business system that elevates Dubai globally, especially as CP1 provides easy, convenient, and quick services to the community, and contributes to the smart transformation of transactions and services to ensure customer satisfaction and happiness."
HE Judge Abdulqader Mousa, Director of RDC, commented: "We employed artificial intelligence (AI) and blockchain in RDC's system. We introduced CP1 in contribution to Dubai's transformation into the happiest and smartest city in the world. This initiative also helps us achieve the UAE Strategy for AI that will allow the UAE Government to rank first internationally.'
Mousa stressed that RDC works in line with the directives of our governments towards digital transformation and service automation, thus providing customers with smart services. During the 'A Week Without Service Centres' initiative, RDC provided registration services through the court probe, where reconciliation cases may be registered, as well as first instance lawsuits, dispute proceedings, and enforcement proceedings.
Mousa affirmed that CP1 is an 'integrated court' that provides all litigation services using AI technologies where the litigant can enter the system, register the case, and then obtain the judgment without the involvement of a judge. CP1 also provides the possibility of attending hearings in some cases and sentencing without visiting RDC.
Mousa stressed that RDC developed CP1 to achieve its three objectives: speed and accuracy of litigation, and facilitation for litigants. He added: 'By launching CP1, we will be able to record a global precedent for Dubai, especially since we provided all the elements for the idea, including the creation of a video-conferencing room that ensures sound integrity and proofing with user identification via ID readers. Through this probe, either party may file a claim online without the need to visit RDC. Litigants will also then be able to obtain their initial judgments at a record speed using AI.
Mousa affirmed that CP1 will be used as a court for remote litigation using equipment provided by modern technology. Customers may book CP1 and session dates and times through the network and the probe will be available based on the specified dates and times.
Mousa stressed that the court probe is a mobile service that will also benefit people of determination as it is remotely available anywhere in the Emirate, while also benefiting women and the elderly. The court will be equipped with Wi-Fi, video communication, an electronic reading system, and iris recognition devices for biometric identification. Either party may register cases and attach documents, with the judgement taking place simultaneously without a judge through the use of self-litigation based on artificial intelligence.
Working Mechanism
The court probe works remotely, without the need for a judge. After verifying the person's identity electronically, documents can then be submitted via a scanner for review by a sitting judge who will address both parties directly, accessing all the information and data thereof.
Remote litigation does not depend on the case registration, requests, deliberation between judges, and sentencing. Rather, the litigants may remotely attend hearings before a judge, listen to deliberations leading up to the judgment, and have the signature be read by the opposing side for acceptance or appeal.
Remote litigation records are maintained electronically and are confidential. The service can be used both inside and outside the country, and strict controls have been placed to ensure that attendance figures from parties are remote.
Home
>>
Technology Section