Home
>>
Lifestyle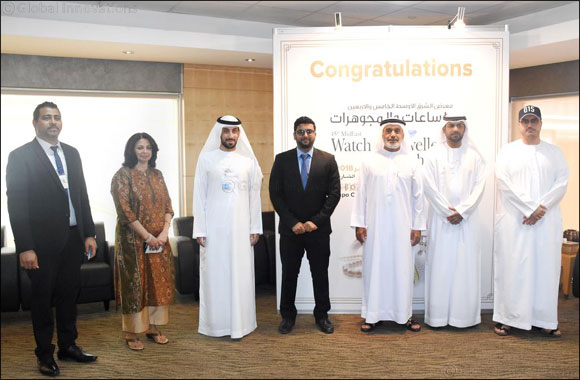 Expo Centre Sharjah honours the six winners of the MidEast Watch and Jewellery Show
Sharjah – 24 October 2018: Expo Centre Sharjah honoured the raffle draw winners of the 45th edition of the MidEast Watch and Jewellery Show.
Both of Sultan Shattaf, Marketing and Business Development Director of Expo Centre Sharjah; and Marwan AlMashgouni, Public Relations Manager at Expo Centre Sharjah, handed prizes to the 6 winners of the raffle draws that took place during the 5 days of the show, under the supervision of the Sharjah Chamber of Commerce and Industry. The prizes included a 1-kilogram Gold Bar, which was the Mega Raffle Draw of the exhibition. The show, which was held during October 2-6, succeeded in attracting 60,000 visitors and 500 exhibitors from 25 countries.
The winners were honoured on Tuesday during a ceremony organized by Expo Centre Sharjah at its headquarters, in the presence of members of the show's organizing committee.
HE Saif Mohammed Al Midfa, CEO of Expo Centre Sharjah, congratulated the raffle draw winners of the 45th edition of the show. He remarked that both the daily raffle draws for jewellery and the last raffle draw for the mega gold prize are part of the centre's efforts to ensure the happiness of the exhibition's guests, as well as to enhance the status and reputation of the show, which is considered the most prominent exhibition of its kind in the UAE and the region. He added that the centre is keen to continuously enhance the quality of the services it offers to the MidEast Watch and Jewellery Show, as well as to increase the number of prizes available for buyers, so that the show continues to be the preferred destination for those interested in buying the latest designs of watches and jewellery.
Fatma Abdullah won the Mega Raffle Draw that was held on the final day of the exhibition, which consisted of a 1-Kilogram Gold Bar. The winners of the show's daily raffle draws included Laila Alsayegh and Khuloud Ali Al Reyami, who both won a diamond jewellery set. Other winners included Simi Sikka, who won a gold and diamond jewellery set; and Juwairia Kayed and Muneeb Cholayil, who both won a diamond ring.
Most of the exhibitors and visitors that were surveyed during the exhibition maintained that the latest edition of the show was the most successful edition so far, especially in terms of the unique aesthetics and décor, the large participation of exhibitors and guests, and the variety of exhibits available.
Home
>>
Lifestyle Section