Home
>>
Entertainment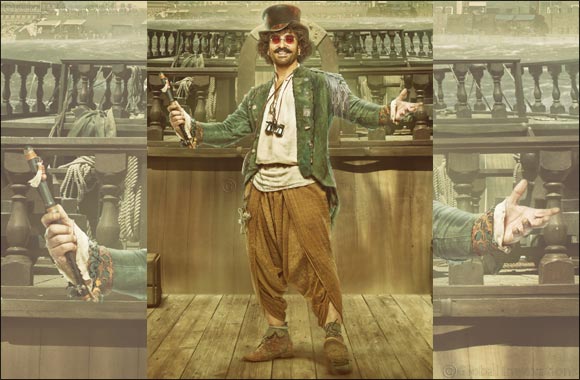 'Firangi wears things that he has robbed from people!': Aamir Khan on Firangi's look
Dubai, UAE, October 31, 2018: Thugs of Hindostan, the visually grand action adventure from Yash Raj Films, is a fictional story that is set during British East Indian Company's rule over India. Given its setting and its larger than life scale, designing the looks and costumes of the film's characters were of great importance as it required audiences to go back in time.
"Firangi is a potpourri of different elements and identities stolen from the myriad people he meets. He loves his name and lives up to it with his top hat and his choice of foreign booze, which also are incidentally stolen from people. He wears an English leather tail coat in a jade colour, the colour of a chameleon," say designers Rushi and Manoshi.
"Like a magpie, he loves collecting things that shine to his eyes. He has a chatelaine belt from which he hangs his favorite glinting belongings. A rose-tinted sun-glass, an ornate leather canteen of water, a mismatched pair of boots and a 'potli' full of tricks, beware of the charmer, Firangi Mallah!" they add.
In creating the look for Aamir Khan's character Firangi, a flamboyant, wily, deceptive smooth-talking thug, the actor was minutely involved in the research and design. 'For Firangi, what we figured is that other than the dhoti that he wears, everything else is robbed from someone! Whether it's his hat, sunglasses, shoes, jacket, everything has been flicked.' he adds.
Yash Raj Films Thugs of Hindostan is the biggest visual spectacle hitting the big screen this Diwali. It boasts of a larger than life, never seen before action extravaganza and an incredible casting coup that brings together two of the biggest legends of Indian cinema, Amitabh Bachchan and Aamir Khan on screen for the first time.
Thugs of Hindostan has been directed by Vijay Krishna Acharya. It is set to release on November 8, in Hindi, Tamil and Telugu.
Advance tickets available across cinemas in the UAE.
Home
>>
Entertainment Section