Home
>>
Entertainment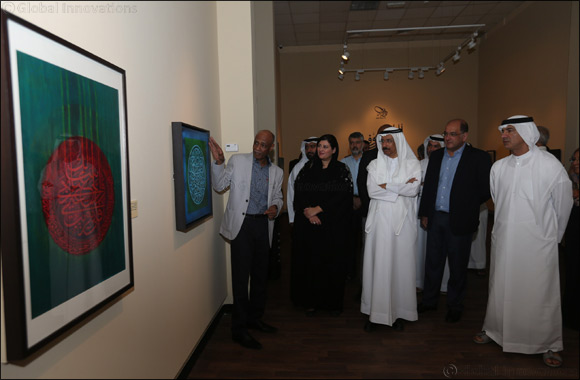 New exhibit by acclaimed calligrapher Tagalsir Hassan opens at Sharjah Calligraphy Museum
'Versatile Letters', an extensive collection of works by the influential UAE-based artist, to run from Nov 5th to Dec 18th, 2018
SHARJAH, UAE, 6th November, 2018: Sharjah Calligraphy Museum today opened an exhibition devoted to the work of Tagalsir Hassan, the acclaimed UAE-based calligrapher.
'Versatile Letters' pays tribute to Tagalsir Hassan who has been a leading figure in the preservation, promotion and continuing development of Arabic calligraphy in the Emirates and around the region for more than four decades.
The opening was attended by His Excellency Mohammed Al Murr- Chairman of the Mohammed Bin Rashid Al Maktoum Library Council, HE Abdullah Mohammed Alowis - Chairman of the Department of Culture, HE Bilal Al Budoor Chairman of the Cultural and Scientific Association, HE Manal Ataya, Director General of Sharjah Museums Authority.
Running until December 18, 2018, 'Versatile Letters' invites audiences to explore Tagalsir Hassan's talent for 'Alkhatt AlArabi' (the Arabic name for calligraphy) and his work to bring calligraphy to new audiences through the creation of unique styles and designs as well as his personal interpretations of its classic forms.
A highly-educated and respected expert in his field, Sudan-born Tagalsir Hassan is a talented fine artist, painter, scholar and graphic designer who first discovered his passion for calligraphy while studying at Khartoum's College of Fine and Applied Art in the late 1970s.
'Versatile Letters' displays 67 of Tagalsir Hassan's most impressive works, which include calligraphy created in the traditional styles alongside newer, more contemporary pieces.
One of the major forms of artistic expression in Islamic culture, calligraphy's forms and patterns are closely tied to the Holy Qur'an with its chapters and verses a universal theme throughout its history.
As well as producing calligraphy in the straight and angular styles of 'Kufic' script, Tagalsir Hassan also works in the forms of 'Thuluth', which promotes the use of elegant, curved and oblique lines.
Hosted by Sharjah Calligraphy Museum and organized by Sharjah Museums Authority, the exhibition is dedicated to the emirate of Sharjah where Tagalsir Hassan has lived and worked since 1988 and which continues to inspire him to create calligraphic artworks of outstanding beauty and quality.
Tagalsir Hassan's love of the written word has seen him play an active role in the launch of several magazines dedicated to Arabic calligraphy and language, including 'Hroof Arabeyya', a highly influential title that has been published in Dubai since 2000.
Such is his standing in the region's art movement, Tagalsir Hassan also helped to establish Sharjah Calligraphy Museum while also contributing to the creation and design of Calligraphy Square, the public art space located in the Heart of Sharjah cultural destination.
Throughout his career, Tagalsir Hassan has been the recipient of numerous national, regional and international awards for his calligraphy.
'Versatile Letters' is the latest addition to Sharjah Calligraphy Museum's extensive annual calendar of events and exhibits that aim to highlight outstanding calligraphic artworks by some of the Arabic art scene's most talented individuals.
The museum, which opened in 2002 and is considered the first museum in the Gulf devoted to calligraphy, regularly hosts artists and regional exhibits as part of Sharjah Museums Authority's mission to give audiences in the emirate of Sharjah and the UAE access to works of calligraphy as well as myriad examples of art alongside cultural artefacts of outstanding beauty and importance.
This new exhibit is a superb opportunity for members of the public to discover Arabic calligraphy through an exciting and beautiful range of pieces produced by one of the most celebrated artists working today.
Sharjah Calligraphy Museum's team of expert guides will host tours of the exhibition while the artist himself will also present a lecture to discuss his work and career, his influences and vision for the advancement of the art form.
The guided tours and lecture are open to all members of society, regardless of age or ability, as part of Sharjah Museums Authority's commitment to ensuring all its museums, exhibits and activities are fully open and inclusive to the entire UAE community.
Manal Ataya, Director General of Sharjah Museums Authority, said:
"As an active and a prolific artist, Tagalsir Hassan has played a major role in helping the progress of calligraphy in new spheres of appreciation while expanding its complexity and form by introducing new ideas and concepts.
"Visitors to the 'Versatile Letters' exhibit will have the opportunity to discover artworks of incredible beauty and explore the long history of Arabic calligraphy "
Tagalsir Hassan added: "It is my great pleasure to exhibit so many of my works at Sharjah Calligraphy Museum, a venue of huge importance to not only me and my work but also to the art of calligraphy in the region and across the world.
"This exhibit is an opportunity to reach those with a long-standing appreciation of Arabic calligraphy and those who are only just starting out on their journey to discover the art form. I hope to show visitors the beauty and complexity of calligraphy and the beautiful message behind its shapes and letters."
Home
>>
Entertainment Section