Home
>>
Home, Furniture and Interiors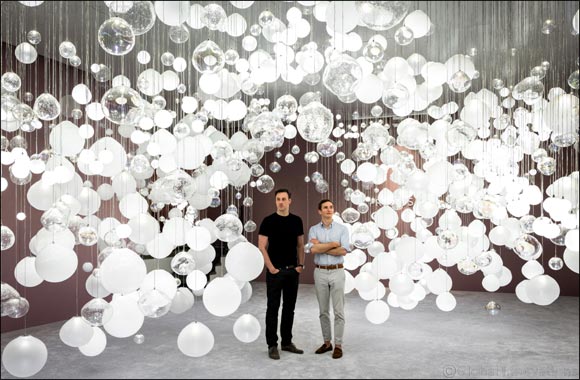 Preciosa Lighting brings Breath of Light to the Middle East
November 13, 2018 - Dubai UAE - Preciosa Lighting, the Czech lighting manufacturer, will be launching its interactive lighting experience, Breath of Light, into the MENA region at this year's Downtown Design exhibition in D3.
With Expo 2020 just two years away, Preciosa is looking to support brands within the hospitality sector stand apart from the rest. Using innovation and technology to bring people together through light, Preciosa offers hotel brands, and owners of shared spaces, an innovative way to differentiate from their competitors and offer a unique experience to guests and visitors.
The expected boost to the UAE's hospitality and tourism sectors is already underway. In response to Expo 2020, the supply of hotel rooms in the UAE is set to increase to 41,846 hotel rooms, according to global benchmarking and analytics provider, STR Global, a 41.2 per cent increase on current supply, including 53 five-star hotels either in planning or under construction with opening dates scheduled before 2020. Dubai Tourism forecasts the supply of hotel rooms in Dubai will reach 132,000 by the end of next year. With the increase in luxury hotels in the UAE, average daily rates are declining, according to advisory firm, EY. While some hotels are opting to provide discounted room rates to appeal to budget-conscious travellers, others are focusing on providing improved entertainment and experiential offerings.
"The ability to stand out in the Middle East's luxury design arena requires a different mindset, one that looks to creativity, inventiveness, and values the importance of good design in projects," said Martin Fryzelka, Managing Director for Preciosa Gulf.
Mr. Fryzelka adds: "Preciosa focuses on connecting people through light, using our heritage combined with the technology demanded by today's customers. Brands and properties are looking for ways to create memorable experiences and designing interactive lighting installations is a way to differentiate, an innovative way to bring people together, like what we have done with Breath of Light."
"We are so excited to be bringing Breath of Light to Downtown Design Dubai for its regional debut," said Michael Vasku, Creative Director for Preciosa Lighting. "This is the first time this playful, interactive installation will be shown in the region and we can't wait to see the reaction of our guests. Preciosa Lighting aims to connect people through light and we believe Breath of Light is an experience that will unite people with a surprise and a smile. Visitors will have the chance to discover glittering crystal radiance in a whole new experience. Using special sensors, guests can interact with the installation, and each other, simply by sharing a breath. The effortless act creates a wondrous light and sound show that will blow people away."
Downtown Design Dubai is the Middle East's largest celebration of original, high-quality design. Preciosa Lighting will be participating in the event for the third time. In the Middle East, the brand offers luxurious lighting installations for both public spaces and private residences. Some of the company's recent Dubai projects include the Rajmahal Theatre, Katana Robata & Sushi Bar, Dubai Opera and Al Mahara Restaurant at Burj Al Arab Jumeirah.
Home
>>
Home, Furniture and Interiors Section