Home
>>
Entertainment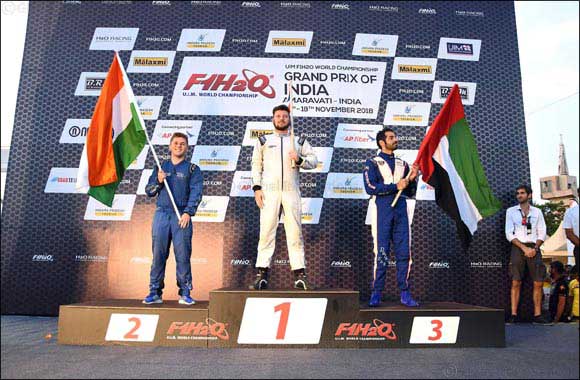 Al Fahim lives up to his potential with F4 win in India
Dubai, UAE, November 19, 2018: Victory Team's Ahmed Al Fahim lived up to his potential with an outright victory in the second race of the F4 category during the Grand Prix of India, the fifth round of the 2018 UIM F1H2O World Championship, on Sunday.
Al Fahim, who was one of the few emirati talents given a break at the start of the season, finished the second race on the Krishna River in Amaravati to take maximum points and pull himself up into contention for overall honours.
The race was always going to be an interesting one after Victory Team's Al Fahim had claimed pole position with a fine lap of 53.61 seconds leaving England's Sam Whittle in second and Team Abu Dhabi's Mohammad Al Mehairbi in fifth. Race one winner Rudolf Mihaldinecz did not start the qualifying session leaving the field open for the rest of the drivers.
Al Fahim led the way towards the first turn buoy and he completed the first lap 1.88 seconds of Whittle with Ben Jelf in third and A Mehairbi in fifth place. But the yellow flag was raised almost immediately before action re-started on Lap 3 without Mihaldinecz and Bingchen Wu on the race course.
Al Fahim began to pull away from Whittle and Jelf as Al Mehairbi slipped to sixth place with rival Stilz running in fourth. The seven surviving boats held station through Lap 8 of 20 with the leader extending his advantage to 5.45 seconds. There were no changes to the running order after Lap 12 and Al Fahim managed to hold on to his lead to claim the win over Whittle by the margin of 4.36 seconds.
Ahmed Al Hameli and Alex Carella, Al Fahim's teammates in the F1 category were not as fortunate with Al Hameli coming in eighth best, while Carella did not even finish his race.
Action in the UIM F1 H2O World Championship reaches a conclusion with two races in Abu Dhabi and Sharjah in December.
Positions for the 2018 F4 Trophy after Race 8 of the championships held in Amaravati, India: 1. Max Stilz (DEU) Blaze Performance 87pts; 2. Mohammed Al Mehairbi (UAE) Team Abu Dhabi 86pts; 3. Sam Whittle (GBR) F1 Atlantic Team 70pts; 4. Tom Chiappe (FRA) Emirates Racing Team 65pts; 5. Ahmed Al Fahim (UAE) Victory Team 63pts; 6. Wu Bingchen (CHN) CTIC F1 China Team 40pts; 7. Pedro Fortuna (PRT) Team Sweden 35pts; 8. Alexander Lindholm (FIN) Team Amaravati 29pts; 9. Ben Jelf (GBR) Team Amaravati 27pts; 10. Rudolf Mihaldinecz (HUN) Mad-Croc Baba Racing Team 22pts.
Home
>>
Entertainment Section