Home
>>
Healthcare & Medicine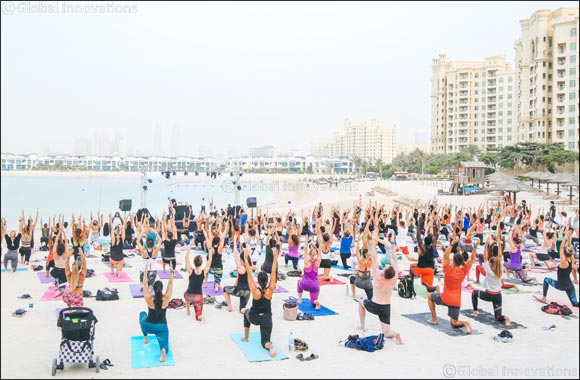 Club Vista Mare rounds off Dubai Fitness Challenge with biggest edition yet of Core Beats
Beachfront destination teams up with Fitness First and Yoga La Vie for power-packed, rock music-themed workouts
Dubai, 20 November 2018: Club Vista Mare on Palm Jumeriah is teaming up with Fitness First and Yoga La Vie for the biggest edition yet of Core Beats, the free-to-attend beach yoga and fitness concert.
Taking place on Saturday, 24 November – the last day of the 2018 Dubai Fitness Challenge, the sixth edition of the concert will feature power-packed, rock-themed workouts on the beach, with an expected 300 people taking part.
With spectacular views, breathtaking light installations, lively music and an invigorating ambience, the past editions of Core Beats have received an overwhelming response with over 1,500 participants in total so far.
The upcoming edition of the hugely popular concert will transform Club Vista Mare into a vibrant workout zone, with rock music-inspired yoga flow guided by top yoga gurus from Yoga La Vie, followed by an adrenaline-charged body weight HIIT training with prominent instructors from Fitness First. Yoga Beats will commence at 5pm and Fitness Beats will commence at 6pm.
Participants can also enjoy exquisite dining offers at selected Club Vista Mare restaurants to help refuel after the Core Beats sessions. Breeze Beach Grill is offering an all-day free access to its star attraction; the UAE's first floating swimming pool, and a 20 per cent off on food and drinks. Simply Italian and Abyat are giving a 20 per cent discount on the total bill from 4pm to 9pm, while RAS is offering 30 per cent off on their a la carte food menu.
Concert attendees must bring a personal yoga mat or beach towel, and a water bottle to the workout sessions.
Yoga Beats - Rock Inspired Flow
Rock music-inspired Yoga Beats will feature Ashtanga Vinyasa Yoga flow that focuses on the harmony between body and breath. Guided by Dubai's top yoga experts, attendees will experience powerful asanas to keep them mindful and centered.
Fitness Beats - DXB'S Greatest HIITS
Designed for workout enthusiasts, Fitness Beats is a 60-minute body weight, high-intensity interval training session that increases strength, muscle and cardio endurance, releases endorphins and can burn up to 1,000 calories per class and extra calories for up to 24 hours post workout.
Home
>>
Healthcare & Medicine Section