Home
>>
Banking & Investments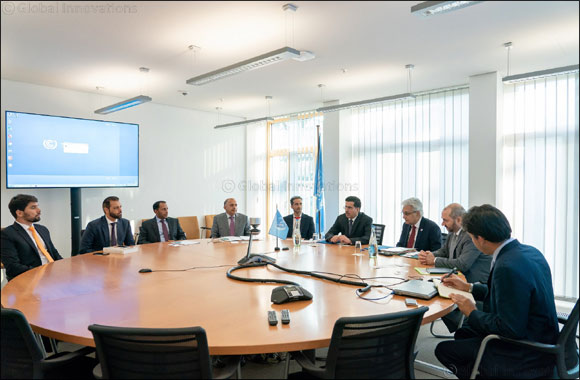 HE Saeed Mohammed Al Tayer meets Deputy Executive Secretary of UNFCCC
United Nations Framework Convention on Climate Change (UNFCC) invited to join WGEO
Dubai, UAE, November 29, 2018: HE Saeed Mohammed Al Tayer, Chairman of the World Green Economy Organization (WGEO) met with Ovais Sarmad, Deputy Executive Secretary of United Nations Framework Convention on Climate Change (UNFCCC) at the UNFCCC Headquarters in Bonn, Germany.
During the meeting, HE Saeed Mohammed Al Tayer extended an invitation to UNFCCC to join the WGEO, to contribute to better coordination and cooperation between international organisations to support a green economy. HE Al Tayer stressed that the UNFCCC is one of the most effective platforms that is working proactively to address climate change.
H.E. Mr. Ahmed Butti Al Muhairbi, Secretary General, Dubai Supreme Council of Energy and WGEO Board Member; Waleed Salman, Vice Chairman of WGEO and Abdul Rahim Sultan, Director of WGEO attended the meeting.
The move comes as part of the cooperation between the UNFCCC and WGEO, which contributes to supporting the implementation of Paris Agreement to combat climate change, and facilitate the transition to a low-carbon economy to achieve a sustainable, green economy through integrated projects.
The World Green Economy Organisation aims to increase cooperation between the public and private sectors and promote green economic development efforts in the world through an integrated project system.
WGEO was launched in Dubai on 5th October 2016, at the World Green Economy Summit (WGES) by HH Sheikh Mohammed bin Rashid Al Maktoum, Vice-President and Prime Minister of the UAE and Ruler of Dubai, in collaboration with the United Nations Development Programme (UNDP). The World Green Economy Organization works in conjunction with countries all over the world to support the United Nations Sustainable Development Goals (SDGs) 2030, through seven platforms namely: countries, cities, private sector, financial institutions, international organisations, academic sector& civil society, and the youth sector.
The World Green Economy Organization (WGEO) is headquartered in Dubai. The Emirate is sparing no efforts to advance the development process in the fields of renewable energy, sustainability and the environment. Dubai has developed the Carbon Abatement Strategy targeting a reduction of 16% in carbon emissions by 2021 . This will transform Dubai into the city with the lowest carbon footprint in the world. The Dubai Clean Energy Strategy 2050 intends to provide 75% of the Emirate's total power output from clean energy, and make Dubai the city with the lowest carbon footprint in the world by 2050.
Home
>>
Banking & Investments Section