Home
>>
Education & Training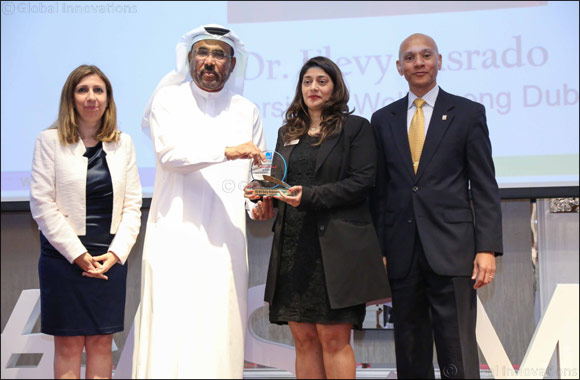 UOWD's quality management expert wins ASQ-UAE Quality Professionals Award
Dubai, December 4, 2018: Quality management and business excellence expert, Dr Flevy Lasrado, was presented with the ASQ-UAE Quality Professionals Award at a prestigious award ceremony in Dubai recently.
Dr Flevy, Assistant Professor specialising in Quality Management at the University of Wollongong in Dubai (UOWD), won the award for her outstanding professional achievements and publications on quality and business excellence in the region.
The award was presented by Mr Elmer K. Corbin, Chairman of the Board, ASQ and Director and Global Delivery Excellence Leader, IBM Watson Health, USA and Mr Ali Ibrahim, Deputy Director General for Executive Affairs - Dubai Economic Department.
Launched in 2015 under the patronage of Dubai Economy's Business Excellence division, the award is the first of its type in the Middle East carrying global ASQ brand recognising outstanding quality professionals based on the principles of fairness, transparency, objectivity, independence with high standards and performance.
Speaking at the function, Mr William Troy, CEO, American Society for Quality (ASQ) in the USA, emphasised the importance of quality professionals, their work in the region and the need to recognise their achievements.
Reacting to the award, Dr Lasrado said: "I am honoured and feel blessed to have got this award. I made my humble entry into the realms of quality and excellence years ago, and I believe I have made my journey to mark new ways of excellence, with the boundless learning platform and support of ASQ and UOWD".
"Quality is about creative thinking and finding endless new means of serving a customer who is immensely engaged and entwined in the crux of the digital era. Salutes to ASQ's MEA determination in their efforts to drive to shape and build leaders for the future in the region," Dr. Lasrado added.
Professor Mark Gabbott, Dean of the Faculty of Business at UOWD, underlined the University's commitment to offer curricula focussed on current and modern knowledge in order to prepare students for their future roles in the global market.
"In a very competitive world, the next generation of future leaders need to stay updated with latest trends and research in their respective fields. UOWD is at the forefront of delivering education that is innovative, research based and focussed on the ever changing needs of the market. Dr Lasrado has shown incredible initiative in shaping the Quality Management curriculum at the University and I would like to congratulate her on winning this award", Professor Gabbott commented.
Dr Lasrado periodically infuses curriculum with up-to-date cases and cutting edge research in the field. Her ground-breaking research in this arena has been published by international publishers such as Springer Nature, Palgrave UK and Routledge UK – the world's leading academic publisher in the Humanities and Social Sciences.
The Master of Quality Management is a long standing academic program at UOWD and is constantly reviewed to meet industry requirements. UOWD is now accepting applications for the Spring 2019 semester which starts on February 3.
Home
>>
Education & Training Section