Home
>>
Lifestyle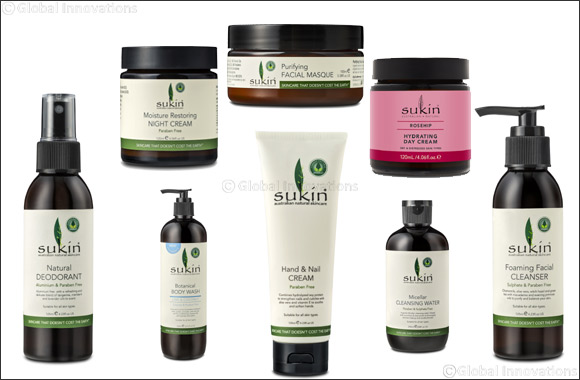 Maintain Healthy Skin Year Round
Pocket-friendly must-use skincare products in 2019
Dubai, UAE, December 06, 2018: As we look forward to entering 2019, our minds are thinking everything new.
The new year beckons new beginnings, and for many women, resolutions might include eating healthy, getting in shape, staying away from comfort foods, more travel, spreading positivity, more reading, lesser TV time, hitting the bed early, and getting enough sleep.
For a lot of women who face the tediousness of makeup removal before bedtime, who forget to apply a moisturizer due to hurried mornings, and who never find the time to either exfoliate regularly or use a charcoal facemask once a week, a resolution to make time to care for your skin would be a splendid one. However, while considering such a wise resolution, also consider the right skincare products and brand for your skin.
Our skin is the largest organ in the body, and it has many important roles in the maintenance of life and health. It plays a crucial role in being a flexible barrier from potentially harmful external elements. The skin is unique in many ways, but no other organ demands so much attention and concern. So using the right product on your skin should be a top priority.
One brand that you can trust is Sukin, Australia's No. 1 natural skincare brand, whose products are skin friendly, earth friendly and pocket friendly. So, when thinking of resolutions for your skin, think Sukin!
Here are some essential picks from Sukin to help you maintain healthy skin in every season:
Sukin Foaming Facial Cleanser (AED 42)
This facial cleanser provides you with a non-drying, gentle gel cleanser for normal to oily skin types. Make-up, daily dirt buildup and excess oils are removed to reveal a balanced, cleansed complexion. A combination of Chamomile, Aloe Vera, Green Tea and Witch Hazel soothes the skin, while light hydration is promoted through oils of Evening Primrose and Rosehip.
Sukin Micellar Cleansing Water (AED 42)
This product is infused with gentle Aloe Vera to thoroughly remove make up and dirt buildup, whilst soothing and purifying the complexion. A refreshing blend of Chamomile and Cucumber calms, leaving skin lightly hydrated and clean This micellar water can be left on skin.
Sukin Antioxidant Eye Serum (AED 75)
This antioxidant eye serum offers hydration to the delicate eye area through a blend of plant extracts including soothing Aloe Vera, Cucumber and Burdock. Nutrient rich oils of Rosehip, Evening Primrose and Borage assist with reducing the appearance of fine lines and help fight the signs of ageing, while improving the skin's texture.
Sukin Rosehip Hydrating Day Cream (AED 95)
The Rosehip Hydrating Day Cream contains a powerful blend of Rosehip Oil infused with Pomegranate to help relieve dehydrated skin and fight the signs of premature ageing.
With Kakadu Plum, naturally rich in Vitamin C, this rich day cream encourages skin radiance, while a generous blend of active botanicals will improve texture of skin and leaves skin feeling smooth and hydrated.
Sukin Moisture Restoring Night Cream (AED 75)
This deeply hydrating Moisture Restoring Night Cream nourishes the skin while you sleep, through a blend of Rosehip, Evening Primrose and Jojoba Oils. Added Vitamin E, Borage and Avocado Oils replenish the skin's moisture barrier while improving the texture, leaving skin feeling soft and rejuvenated.
Sukin Purifying Facial Masque (AED 65)
Sukin's antioxidant rich Purifying Facial Masque is made from a base of gentle Kaolin Clay. Soothing Aloe Vera and hydrating Rosehip and Jojoba Oils help to moisturize the face while the masque dries, leaving your skin feeling refreshed, nourished and clean.
Sukin Botanical Body Wash Lime & Coconut (AED 49)
This soap-free Lime and Coconut Botanical Body Wash refreshes and stimulates the senses while leaving skin clean and fresh. Jojoba, Avocado and Rosehip Oils are combined to purify, hydrate and soften the skin while cleansing. With a calming combination of Chamomile and Aloe Vera, skin is left feeling soothed and lightly hydrated.
Sukin Natural Deodorant (AED 25)
This Aluminium-free deodorant provides a natural option for preventing unwanted odor. A blend of Aloe Vera, Burdock and Nettle Extracts help to cool and soothe skin after shaving. Citrus and Aromatic Oils including Tangerine, Mandarin, Lavender and Vanillin provide a fresh aroma and leaves you feeling clean and refreshed.
Sukin Hand & Nail Cream (AED 42)
While looking after your face, body and hair, it's easy to neglect your hands, but it's super important to ensure you are caring for the skin on your hands every day, as they're one of the first places to show any signs of aging. Sukin's non-greasy, light hand & nail cream will hydrate and protect dry hands while caring for nails and cuticles from added Hydrolyzed Soy Protein. Hands will feel nourished, soothed and softened from Aloe Vera, vitamin E and Borage oil.
Sukin is available exclusively at LIFE Pharmacy retail outlets throughout the UAE, in Holland & Barrett Saudi Arabia and soon in Boutiqaat in Kuwait.
Sukin is also available in Lebanon at key pharmacies including Summerland Pharmacy, Arax Pharmacy and Express Pharmacy.
Home
>>
Lifestyle Section