Home
>>
Entertainment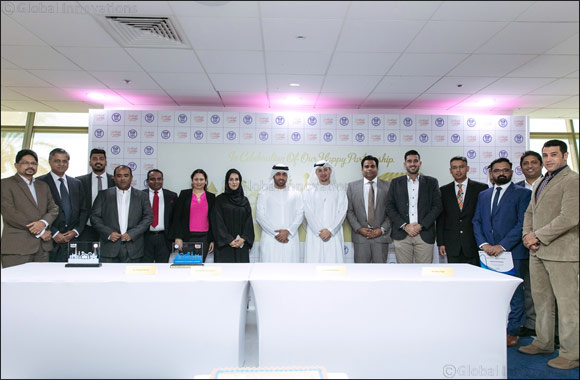 Dubai Parks and Resorts signs strategic partnership with Baskin-Robbins
Dubai, 16th December 2018: Dubai Parks and Resorts, the largest integrated theme park destination in the region, has signed an exclusive partnership with Baskin-Robbins to broaden its marketing platform by expanding its offering for customers and spreading awareness about the destination through Baskin-Robbins' extensive network of over 800 outlets across the GCC.
As a strategic partner, Baskin-Robbins will have exclusive rights as the sole ice cream franchise at the Dubai Parks and Resorts' four exciting theme parks, MOTIONGATE™ Dubai, LEGOLAND® Dubai, LEGOLAND® Water Park and Bollywood Parks™ Dubai.
Ahmed AlRayyes, Chief Commercial Officer, DXB Entertainments, said: "We are delighted to sign a strategic agreement with one of the most popular ice cream makers in the world to create fun and memorable experiences for our guests. This agreement is part of our ongoing and successful efforts to collaborate with leading consumer and travel brands to enhance the guest experience and market our destination".
"Ice cream and fun go hand in hand, so we are pleased to partner with Dubai Parks and Resorts to bring Baskin-Robbins' delicious range of ice creams to guests at their renowned theme parks," said Mr. Mohammed Abdullatif Galadari, Director of Galadari Brothers Co. LLC, the Licensee of Baskin-Robbins in the Middle East.
"We are also excited to collaborate on bringing some of the excitement of the theme parks into our Baskin-Robbins shops across the Region" he continued.
Dubai Parks and Resorts has something for everyone across four themed parks. Visitors can enjoy thrilling rides and meet their favourite movie characters like Shrek or Kung Fu Panda, escape to the fantasy world of the Smurfs or enjoy nail-biting roller coaster rides and other interactive shows at MOTIONGATE™ Dubai.
BOLLYWOOD PARKS™ Dubai, the world's first and only Bollywood-themed attraction, features some of the greatest Bollywood blockbusters. Guests can enjoy a spectacular Broadway-style Bollywood musical and the chance to meet favourite movie star look-a-likes such as Shah Rukh Khan or Amitabh Bachchan.
Families can enjoy action-packed, water-based activities, including thrilling rides on 20 water slides and attractions at LEGOLAND® Water Park. Children aged between 2-12 years and their families can enjoy a fun mix of indoor and outdoor rides, attractions, and building experiences at LEGOLAND® Dubai.
Guests can also journey through time and experience the street ambiance, theatres and cuisines from four distinct eras at Riverland™ Dubai, the gateway to Dubai Parks and Resorts.
Home
>>
Entertainment Section