Home
>>
Healthcare & Medicine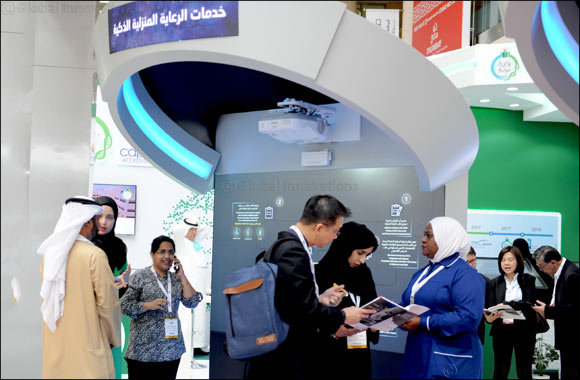 DHA highlights Smart Home Healthcare Services at Arab Health 2019.
Dubai, United Arab Emirates, January 29, 2019: The Dubai Health Authority (DHA) highlighted its smart home healthcare services at the 44th edition of the Arab Health Exhibition and Congress.

The service is part of the overall home care programme. The move is in line with the Authority's vision to enhance its home care programme and utilize smart technology in the emirate's healthcare landscape.

HE Humaid Al Qutami, Director General of the DHA said, "DHA is keen to foster the use of technology in the health sector to better serve patients, improve patient care and healthcare processes. Smart home health care technologies help to improve communication between patients, caregivers, and their health care providers. They help improve the quality of care, enhance overall disease management and reduce the cost of treatment."
DHA has seen a steady rise in the demand for home care services. From 300 patients almost two years ago to more than 1300 patients in 2018, the rise has been multifold.

Dr Manal Taryam, CEO of Primary Healthcare Sector at the DHA said, "Enhancing home care services with smart technologies helps us log patient vitals in real-time on the Salama (electronic patient medial record) system. This helps ensure patient files are always updated and helps facilitate physician consultation through telemedicine when needed. Smart technology greatly helps improve patient access to healthcare and enhances efficiency, especially in a home-care setting."
Dr Taryam said, "The home healthcare service is presently for nationals and is mainly used for home-bound patients, a majority of whom are geriatric patients; we serve people of determination and those who are immobile due to a medical condition or trauma. This service is also provided to recently widowed women during the mourning period (130 days). Our aim is to reach out to these patients and provide the best medical, social, rehabilitation and nutritional care possible in a home-setting."
"We provide the complete spectrum of home-care and only when necessary, patients are sent to the medical centre or a hospital. All the results of the tests and diagnosis we conduct are recorded in the patient's digital file. We use several smart technologies for the convenience of patients."

The smart technologies include the ability to contact doctors via smart applications for instant advice. "Nurses can also directly contact the doctor via a smart tablet for providing live feedback and support to the home care team, thus significantly reducing the waiting time for physician consultation."

She added that the introduction of smart technologies is expected to increase efficiency by 50 per cent and reduce waiting time for getting specialist consultations.
They also include wireless devices that are directly linked to DHA's electronic health record system, Salama, ensuring that patient records are updated in real time during home visits via a secure web server.

The DHA also uses a plethora of wireless devices such as non-contact thermometers, auto-arm blood pressure monitors, 4G routers, smart tablets, pulse oximeters, connected pocket electrocardiograms, blood glucose monitors, wireless stethoscopes and a digital scope system.

Dr Taryam said electronically linking the devices to Salama ensures the accuracy of data and allows healthcare specialists to keep track of patients' overall condition and routine health consultations or assessments from the comfort of their homes instead of having to visit healthcare facilities. ""Directly linking the devices to Salama also ensures compliance to documentation and well-coordinated care, which is critical for patients who see multiple clinicians through computer-integrated medical devices," said Dr Taryam.
Incorporating smart technologies in healthcare is an important priority as it enhances patient care, ensures better follow-up and empowers patients," she added.

The Smart Home Care project is the first-of its-kind in the Middle East and North Africa to utilize wearables and IoT devices to address the needs of the geriatric and bedridden patients. The project bridges the gap between healthcare service delivery and patient needs. It serves as a uniform solution that can be used under various home care scenarios and settings.

By adopting this smart technology, Dr Taryam said that DHA will improve the quality and safety of care provided to patients, accessing physician care more efficiently and timely, thereby enhancing positive patient outcomes.

Smart Home Care Process:
Family or relatives visit a DHA Primary Health Care centre and fill up a Home Care request form
The Home Care team reviews the request form and verifies eligibility criteria. The team schedules an appointment for a multidisciplinary home visit.
Home Care team visits the patient, completely assesses the patient and documents the assessment on the Salama (electronic patient medial record) system.
The Smart Home Care kit is integrated with Salama. It records vital signs and other client tests in Salama in real time.
Physician evaluates and advices a care plan or physician refers patient to a specialist
Physician schedules follow-up visits as per multidisciplinary care plan.
Discharges the client as per criteria.
Home-care service eligibility includes:
Non-ambulatory patients who can't visit a healthcare centre due to their medical condition
People of Determination
Women who are in mourning period (recently widowed – 130 days)
Home
>>
Healthcare & Medicine Section