Home
>>
Healthcare & Medicine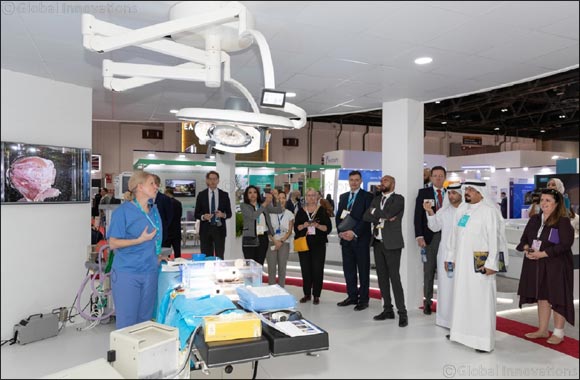 Pioneering 3D Mapping Technique Enables Arrhythmia Cardiac Treatment With Zero Radiation
Dubai, UAE, 30 January 2019: With those in the Middle East more at risk of suffering from atrial fibrillation than other parts of the world, Dr Sabine Ernst from Royal Brompton & Harefield Hospitals Specialist Care (RB&HH) conducted a simulated catheter ablation during Arab Health 2019 using 3D mapping which mitigates the requirement for harmful x-ray.
The corrective procedure is well known, however the consultant cardiologist and cardiac electrophysiologist showcased the pioneering 3D mapping technique, which removes the need for radiation, is unique. The procedure was performed at the Association of British Healthcare Industries (ABHI) stand, and highlighted the new and innovative technique that helps to reduce patient exposure to radiation.
Non-fluoroscopic catheter ablation for atrial fibrillation is an innovative treatment currently available at the world-renowned Royal Brompton Hospital in London. Dr Ernst is, so far, the only practitioner using this approach which entirely avoids using x-rays during the invasive procedure.
Arrhythmias, or abnormal heart rhythms, are widely experienced by people across the world. Atrial fibrillation is the most common form of arrhythmia and a major cause of strokes. In the UAE for example, the average age of stroke patients is 20 years younger than the rest of the world at age 45 according to industry reports.
The prevalence of atrial fibrillation in the Middle East triples with each decade of life compared to other developed countries, where it doubles with each decade of life . Additionally, twice as many women are affected by mitral stenosis than men in the Middle East, which leads them to develop atrial fibrillation more often. These trends can be attributed to increases in sedentary lifestyles, ageing, obesity, diabetes, and hypertension.
This innovative procedure corrects abnormal electrical impulses in the heart using 3D mapping gained through cardiac magnetic resonance (CMR) or computed tomography (CT) imaging.
Known across the world over for its expertise, standard of care and research success in lung and heart disease, Royal Brompton & Harefield Hospitals Specialist Care operates a visiting doctor programme with key hospitals across the Middle East region. The programme helps to provide better clinical outcomes and strengthen relationships with the region's healthcare providers.
Home
>>
Healthcare & Medicine Section